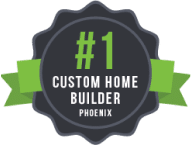 Morgan Taylor Homes is named the #1 Largest Phoenix-Area, Custom HomeBuilder by the Phoenix Business Journal
Scottsdale, AZ- After a recent survey of custom home-builders in the Phoenix Metropolitan area the Phoenix Business Journal has named Morgan Taylor Homes as the largest custom home-builder in the Valley. The list ranks home-builders by the dollar value of custom homes sold in 2018 throughout Maricopa County. Morgan Taylor Homes sold forty-five million dollars worth of homes in 2018 with the most expensive home closing at 1.42 million dollars.
The list, published by the Phoenix Business Journal, is available on their website, with the complete list available to view after a subscription purchase.
(https://www.bizjournals.com/phoenix/subscriber-only/2019/06/28/largest-phoenix-areacustom-home.html).
Established in 2007, Morgan Taylor Homes was founded on the ideals of providing existing and future Arizona residents a new model of home-building; offering buyers the opportunity of building their dream home in their desired location at a great value and at the highest quality. Morgan Taylor Homes currently has over 150 homes projected for completion in 2019