YOUR LOT + OUR HOME = A FASTER AND BETTER
SELLING PROCESS
As Arizona's largest single-lot home builder and the Valley's largest custom home builder, we always have a large pool of buyer's looking for the perfect land to build their new home on.
With the "List on Your Lot" Program your property is marketed on the Morgan Taylor Homes Website, plus Zillow and Trulia. The land is listed as Residential New Build with one of our popular home plans to be built on it.
THE BENEFITS OF THE
"LIST ON YOUR LOT"



Selling homes is a signi
icantly faster process.

Experienced sales agents
working to sell your land
Triple the advertising exposure at no cost to you! We handle all of the marketing and advertising, so you don't have to!
Listing your lot is no cost to you with free advertising of your property via all of our diverse marketing channels.
No Sales Agent Commissions- if your land sells at the desired price you are only responsible for standard title fees. Selling with MTH's "List on Your Lot" can save you up to 6% on Sales Agent's Fees. On a $115,000 property that saves you $6,900.
Selling homes is a significantly faster process. According to an MLS case study homes sell in an average of 142 days compared to the 336 day average of selling land

29 :1
Ratio of Home Sales to Lot Sales

4 X Faster
Lots with homes sell four times faster

Compare 67 to 271 Days
Average Days on market for
Homes vs. Land
No Downside! Seller nets the same profit, regardless of sales method.
Building homes with excellent craftsmanship,
flexibility, and incredible value since 2007.
CONTACT US ABOUT
SELLING YOUR LOT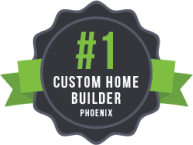 VOTED LARGEST PHOENIX-AREA CUSTOM HOMEBUILDER
BY THE PHOENIX BUSINESS JOURNAL
Learn Why Our Customers Love ❤️ Our Homes

We were feeling a bit cramped in our outdated Phoenix home and decided to make a big move to North Scottsdale. After viewing numerous resale homes, we couldn't find anything that fit our needs, so we decided to build new. After exploring several builders, we decided on Morgan Taylor. They gave us our all-in price almost immediately and we were able to pick all our own finishes. Our home turned out incredible and we absolutely love it!
Cassandra T

Built us an amazing house at a reasonable cost.
Jim P

Very good workmanship from all the contractors.
Art H

Morgan Taylor built my last two homes - I love their designs and working with their team! They've grown to offer a lot more customizations since building my first home back in 2015/2016, and they're always open to discussing my ideas and walking me through the entire building process (as well as explaining why different customizations I suggest may or may not be a good idea!) Always professionals, always beautiful designs.
Lauren W

We could not be happier with our new home in Rio Verde. We have bought quite a few homes and Morgan Taylor Homes has by far been the best experience we've had. The attention to detail and construction quality is second to none. The entire process has been a pleasure and we definitely recommend anyone looking for quality construction in AZ to consider Morgan Taylor Homes.
David M

Everyone was so nice and considerate
Bob L

Morgan Taylor built a new home for us. Not only was the quality top notch, the value was amazing. Everyone was very easy to deal with and extremely flexible. The options and custom changes were planned properly and executed well.
Jim P

As a realtor representing buyers who purchased
a Morgan Taylor custom home recently, we were all extremely impressed with the care, efficiency & professionalism with which the superintendent & his team oriented the buyers to their new home...everyone representing this home builder went above & beyond to assure my buyers that purchasing this home would be a pleasurable experience from start to finish...I definitely can recommend Morgan Taylor Homes!
Carol D | Coldwell Banker Real Estate

Very nice experience with Morgan Taylor Team.
Fred L