Quartz or Granite – What's The Difference?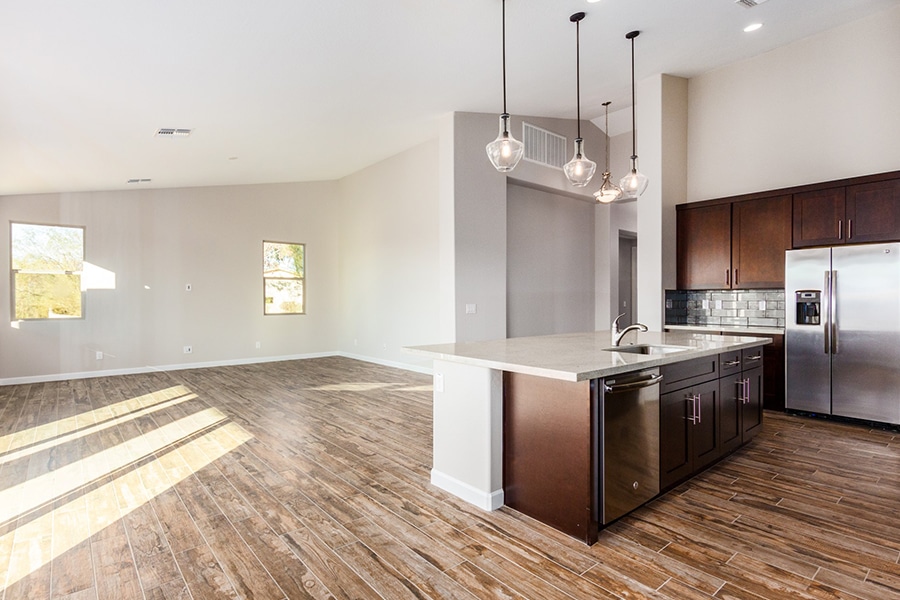 When you are building a new home, there are so many decisions to make! Picking out the finishes for your kitchen is what most home buyers agonize over, as it feels like there are infinite options to go through. For example, Countertops are just one of the many selections you have to make when you are personalizing your new home. At Morgan Taylor Homes, our properties come standard with granite countertops with the option to upgrade to quartz or an upgraded granite. Selecting which one is right for you depends on your lifestyle and taste.
At the end of the day, you can't go wrong with either quartz or granite. They're both stunning choices that have a variety of colors and styles. One option may suit your taste and lifestyle just a little bit better. Allow us to break it down for you with some pros and cons of each one of these popular countertop options.
Granite (The Natural Choice)
Granite has been the favorable counter for homeowners everywhere for the better part of this millenium, reaching great popularity particularly within the past decade.
Granite is a natural stone that is extracted from stone quarries. They are then cut up and formed into slabs for countertops. Because of its natural origins, it has a beautiful organic appearance, with a lot of "movement" within the slabs. It's iridescent and flecked properties are part of what make it such a beloved countertop. Lovers of more traditional styles gravitate towards granite because it has a timeless and elegant appearance.
Pro's
1. Granite can Withstand the Elements
Granite can be used outdoors. Since granite is a natural mineral, it is able to withstand any kind of weather conditions and unlike quartz will not change color.
2. Uniqueness
Like other minerals, each piece of granite is unique. Your kitchen will have it's own look as no one granite slab looks like the other.
3. Granite is a Better Value
Despite many misconceptions, granite is usually more inexpensive than Quartz. Granite averages around $60 per square foot in comparison to quartz, which is around $75 per square foot.
4. Resale Value
Many buyers specifically seek homes with granite countertops. If you install granite in your home you could potentially see a good return in value if you choose to sell your home.
Con's
1. Difficult Seams
It is more difficult to hide the seams in a granite counter. If you need to replace a part of the countertop, you may need to replace the entire piece.
2. Porous
Granite is very porous so if you don't wipe up spills, it is possible the stone can absorb the liquid and cause staining or even bacterial growth.
3. Regular Maintenance
Granite needs regular sealing to maintain quality, glossiness, and prevent liquid absorption due to its porosity.
4. Uniqueness
Because no two slabs look the same, the granite you receive in your kitchen might look different than that of the granite displayed in showrooms or online.
Quartz (The Engineered Choice)
Quartz countertops are an engineered stone product that contain a large percentage of natural quartz. They are made by utilizing quartz stone byproducts that are ground up and formed into slabs using resin. Since quartz countertops are engineered and can be dyed, you can get quartz in many different color combinations. This versatility makes it a great choice for those looking for something a little different.
Pros's
1. Consistency
Because it's an engineered countertop, quartz gives off less of a natural look. However, for those who want more of a uniform look throughout their home, quartz is designed to give you the exact appearance you want.
2. Liquid Resistant
Quartz is resistant to liquid and moisture. Liquids will not seep into the stone, making it a great choice for those with children.
3. Seamless (Mostly)
Seams are generally less noticeable with quartz compared to granite, especially on larger slabs, thanks to its uniform design.
4. No Chipping
Quartz is highly resistant to chipping and is less prone to breaking than natural stone. This especially comes in handy during the installation process.
Cons's
1. Quartz Can Change Color Over Time.
If part of your countertop is exposed to the sun and another part isn't, overtime you may notice that the section that is exposed to the sun has changed in color.
2. Pricey
Quartz is generally more expensive than granite. Since quartz countertops involve more labor in production, it will cost you more than granite, costing around $75 per square foot.
3. Staining
Quartz is susceptible to getting stained from liquids or foods that are heavily dyed. If you spill something, such as soy sauce, you must wipe it up quickly.
As you can see, quartz and granite have a lot to offer aside from their beauty! Whether you are remodeling your kitchen or buying and customizing a new Morgan Taylor Home, we hope to have given you the tools to pick the right countertop for you.
If you are building a Morgan Taylor Home and still have questions about the right countertop for you, or anything else design related, please contact our design studio at 480.626.1555.
Most of the good things in life happen in your home. Game nights, family dinners, restful Sundays, holiday gatherings, and more. So it's crucial to ensure that you love the space in which you live. Building a custom home is the best way to accomplish this goal. But this can seem out of reach if …