Best Places to Retire in Arizona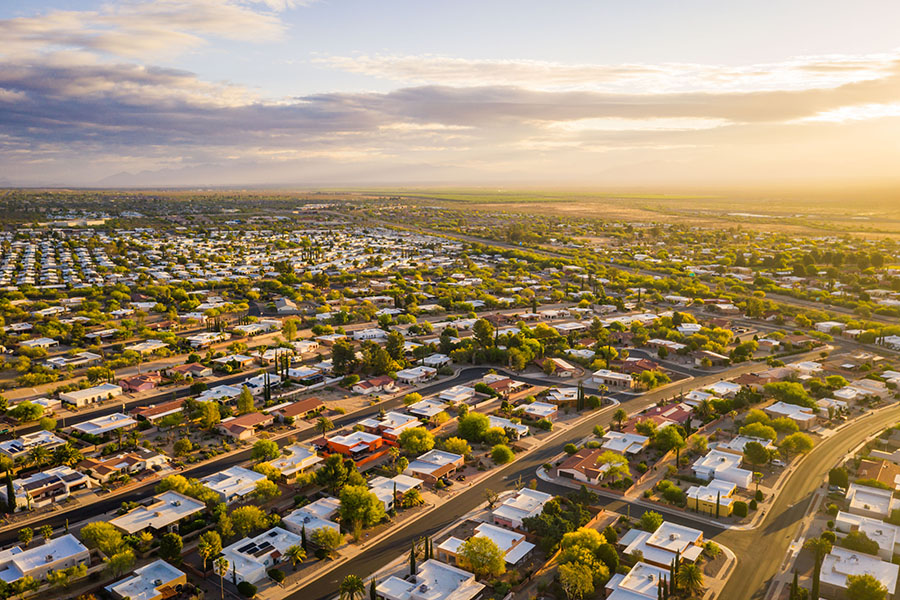 As retirement is approaching, you may be beginning to consider your options for where you'd like to settle down in your golden years. Of course, sunny Florida is a popular option, or perhaps a coastal city such as Charleston. But are you ready for the humidity and flat terrain? If not, these locations may not be the best fit for you.
Did you know that Arizona is actually one of the best and most affordable places in the United States for retirement? It may not be the first state that comes to mind, but it is consistently ranked as the second most popular retirement destination state.
Arizona has many appeals, such as temperate, dry weather for most of the year, beautiful landscapes, limitless outdoor recreation, retirement-friendly tax rates, and more. If you're ready to consider the Grand Canyon State as your new retirement destination, in no particular order, here's a list of the best retirement communities in Arizona.
Bullhead City
Bullhead City's point of attraction is that it is nestled where Arizona, California, and Nevada meet. Therefore, you are never more than a few hour's drive from outdoor adventure and activities or indoor shopping and casinos. It is located directly on the Colorado River and is known as "Arizona's West Coast" and offers many water activities, from riverwalk restaurants to boating.
Casa Grande
Located halfway between Phoenix and Tucson, Casa Grande is Arizona's small town with big city amenities. Its location on Interstate 10 is far enough away from the hustle and bustle of the city that commuter traffic is not burdensome but close enough that an afternoon shopping trip is a breeze.
This distance from the city also makes the cost of living more affordable which eases concerns in retirement and draws in young families. Therefore, the atmosphere and activities are family-friendly for the kids and grandkids.
Cave Creek
Cave Creek is a hidden gem best known for its wide open spaces. Found just North of Scottsdale, this quaint city gives residents breathing room without worrying about being too rural and away from shopping and amenities. Crime rates are low, better than 60% of the national average, and school districts are top-rated, making this city safe for retirees and families alike. If you enjoy hiking, biking, boutique shopping, exploring the Sonoran desert, and taking in the beauty of hillsides sprinkled with spring flowers, then Cave Creek is the place for you.
Green Valley
If you are searching for a retirement location to snowbird for the winter or where most of your friends are neighbors are in your same stage of life, Green Valley is your location. This unincorporated community consists mainly of retirees. Many of the suburban neighborhoods are only for those 55 years of age and older. This active adult community caters to those who are escaping cold northern weather and also those who wish to enjoy their golden years living life in quiet yet enjoyable comfort. The surrounding areas are full of natural beauty, rich history, and a thriving art scene. This makes Green Valley a unique and delightful retirement location.
Litchfield Park
Located in the outer ring of the Phoenix area, Litchfield Park is the perfect retirement location for those who enjoy the liveliness of city life without the busyness. This location offers many sidewalk cafes and casual outdoor spaces for daily enjoyment. Homes in this area have an ambiance of luxury and designed aesthetics.
Home to many retirees, recreations include golf courses, high-quality dining, high-end shopping, and business amenities. All this luxury does not come at a very high price tag and is a distinguished option for affordable Arizona living.
Mesa
Mesa is one of the largest suburban areas in the country due to its beautiful year-round weather and abundant outdoor activities. Located just East of Phoenix, Mesa is adjacent to the fifth-largest national forest in the country, Tonto National Forest. Therefore, this city is perfect for outdoor enthusiasts and nature lovers. However, it is not only for those who love the outdoors for physical activity. There are plenty of activities for those who love shopping, art, culture, and the history of Arizona's Indigenous culture.
Phoenix
As Arizona's largest city, Phoenix has long been a top location for retirees who enjoy beautiful warm weather year-round while also enjoying a populous city full of activities and entertainment. With many sprawling suburbs, Phoenix is the central location of many rural towns, giving residents an easy day's drive to any part of the state. If you wish to fly south from a northern city but love city life, then Phoenix is for you.
Scottsdale
Scottsdale is a prime location for those wishing to retire in luxury and also for those who wish to retire in simplicity. In Scottsdale, there is room for both. With a thriving, active community, Scottsdale offers luxury homes in the hills and affordable, quiet neighborhoods nearby. There is plenty of shopping and dining available, in addition to hiking and biking locations. A day can be spent driving into the city or driving up to a national park. These are just a few reasons that Scottsdale is growing in popularity as a prime retirement location.
Sedona
Easily one of the most beautiful cities in Arizona, Sedona is nestled in the beautiful Red Rocks of Arizona. Though it is a prime tourist location, the population of Sedona is mainly made up of middle-aged adults and seniors, with the median age of residents being 45. Sedona offers much beautiful shopping and golfing locations as well as a thriving art and culture scene. This small city makes for a quaint life in what seems like a movie-picturesque location.
Tucson
As Arizona's second most populous city, Tucson is an excellent location for those who love city life but desire less busyness than what Phoenix has to offer. With a thriving scene for history and culture, Tucson is home to many museums and Indigenous historical sites worth exploring and learning about. It is also a very affordable location for those who wish to spend their golden years in comfort and relaxation.
Building Your Retirement Dream Home
At Morgan Taylor Homes, we desire to see you live out your golden years in the home you have always dreamed of living in. Our team of designers and builders work in all of these locations to bring the simplicity of desert living and the luxury of Arizonan architecture together to bring your dreams to life. If you are looking to build your forever home in one of these beautiful Arizona cities, give us a call to discuss how we can help you make it happen.
Most of the good things in life happen in your home. Game nights, family dinners, restful Sundays, holiday gatherings, and more. So it's crucial to ensure that you love the space in which you live. Building a custom home is the best way to accomplish this goal. But this can seem out of reach if …