Eco-Friendly Home Building: How to Build a Sustainable House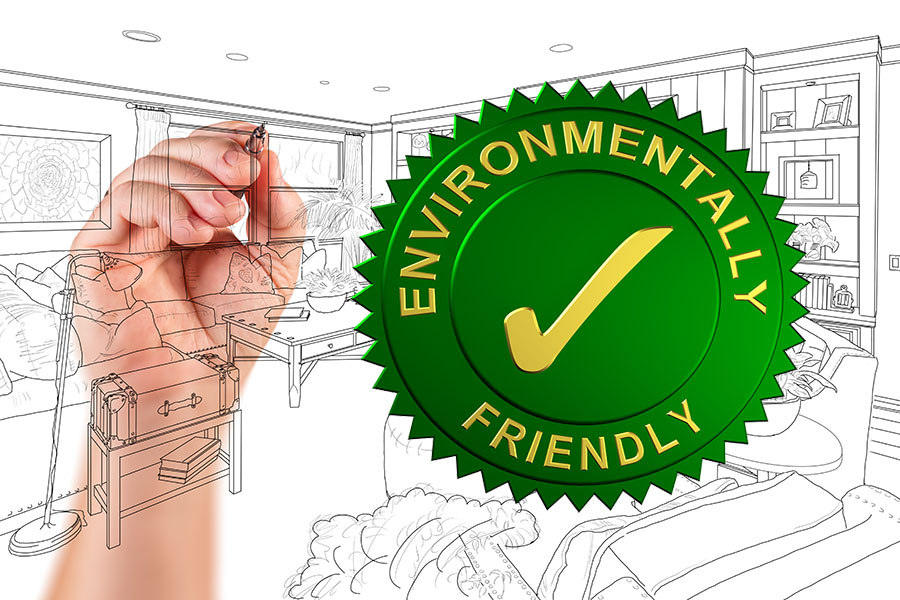 Building an environmentally friendly home is becoming increasingly more important to homeowners in the 21st century. While it is true that green options have long been considered more expensive, it is becoming much more affordable to be eco-friendly thanks to modern technological advancements. In fact, many builders are already implementing greener building materials and processes into their home builds as standard practice.
It is important to us at Morgan Taylor Homes to produce high-quality and environmentally sustainable homes for not only our home buyers, but mother nature as well. The following are some items to put into consideration when looking to build an eco-friendly new home.
Think Quality
Selecting high-quality materials for your home is very important as that means you won't have to worry about frequent replacements and creating more waste in the long and short term. In fact, new construction homes are already by default fairly environmentally friendly due to the usage of newer and more advanced materials. State, county, and city codes assure that your home is built with efficiency in mind, but a quality home builder will take it to the next level. Fortunately, your Morgan Taylor Home already comes standard with high-quality materials and building practices.
Think Efficiently
Pre-planning before home construction is the number one way to ensure that your home build meets your standards of green sustainability. Early-stage planning is key if you desire to build a certified green home or a home with green elements.
Designing a home specified to your lifestyle allows you to designate the largest spaces to rooms that you use the most and eliminate wasted space. Creating your own build on your own land also allows for you to orient your home in a way that uses natural resources such as sunlight, shade, and water runoff.
Think Long Term
Are you thinking that the price of building a zero-waste or 100% eco-home is too steep for your building budget? That doesn't mean that your build is unable to be the eco-friendly, dream home that you desire in the future. To start, you can make budget and eco-friendly choices now while planning for more considerable price point changes.
For instance, implementing wind energy and solar roofing options may be too pricey during the building phase. Therefore, designing your home with the option and intention of switching later could save you time and money in the long run.
Why Go Green?
You do not need to be a botanist or health enthusiast to care about building an eco-friendly home or using renewable energy. There are many reasons for anyone to desire a home that is considered green or sustainable.
There is a great economic benefit to using alternative power and energy options.
There are significant health benefits to reducing toxic materials inside your home.
And finally, the environmental impact of using recycled and low carbon materials ensures that your surroundings stay beautiful and our earth stays clean.
There are many ways to implement green practices into your new build.
Solar
The sun is the number one free resource we have at our disposal when building an eco-friendly home. Of course, this can mean installing solar panels for alternative energy purposes, but it can also mean using passive home designs.
For example, when building your home in a warm climate area, implementing high-performance windows will allow sunlight to brighten your home while keeping the inside from overheating. It is also a great plan to orient your house on land in a way that keeps it mostly shaded during the heat of the day if possible.
Recycle
Using recycled materials in your home is a great way to reduce your home build's environmental impact and is becoming more widely available, which also means it is becoming a more cost-efficient option. Some recycled home materials may include: using cotton or soybean byproduct as a spray or rolled insulation and using repurposed or reclaimed wood where available.
Home Features
Aside from building materials, there are many home features available that are designed with efficiency in mind. Those include:
Energy-efficient light bulbs
Water reducing toilets and dishwashers
High-efficiency washers and dryers
Programmable thermostats
There are also many more ways to reduce your home's environmental impacts, such as using natural wood finishes, recyclable laminate flooring, and low VOC (volatile organic compound) paints. These are options that help protect the planet and are healthier for you and your family long term as they reduce your exposure to a number of toxins.
You can also incorporate low-tech solutions into the building process to make your home more green-friendly, such as:
Installing a drying rack or clothing line for times when high-tech heating options aren't necessary.
Installing a permeable driveway, such as pavers or gravel areas, allows water to permeate the soil around your home and reduce runoff.
Utilizing easily accessible windows to cool indoor air to reduce your home's power load.
Designing your landscape in a way that is indigenous to the area and requires minimal upkeep or watering.
The Builder For You
At Morgan Taylor Homes, we desire to work with you to design the sustainable and environmentally friendly home of your dreams. As Arizona's largest single lot home builder, we are professionals at securing beautiful plots of land and building houses that work with Arizona's beautiful landscape, not against it. We are accustomed to the desert and climate needs when it comes to construction. Preserving this environment is extremely important to us.
A sustainable and eco-friendly home is a long-term investment that requires pre-planning, and our team at Morgan Taylor Homes is prepared to help you every step of the way. We are familiar with Arizona's Renewable Energy Tax credits and reductions and are available to answer your questions and concerns. Contact us at 480-626-1555 to hear about our eco-friendly home building options and begin your home building process today!
Most of the good things in life happen in your home. Game nights, family dinners, restful Sundays, holiday gatherings, and more. So it's crucial to ensure that you love the space in which you live. Building a custom home is the best way to accomplish this goal. But this can seem out of reach if …