Home Design Trends for Custom Homes in Arizona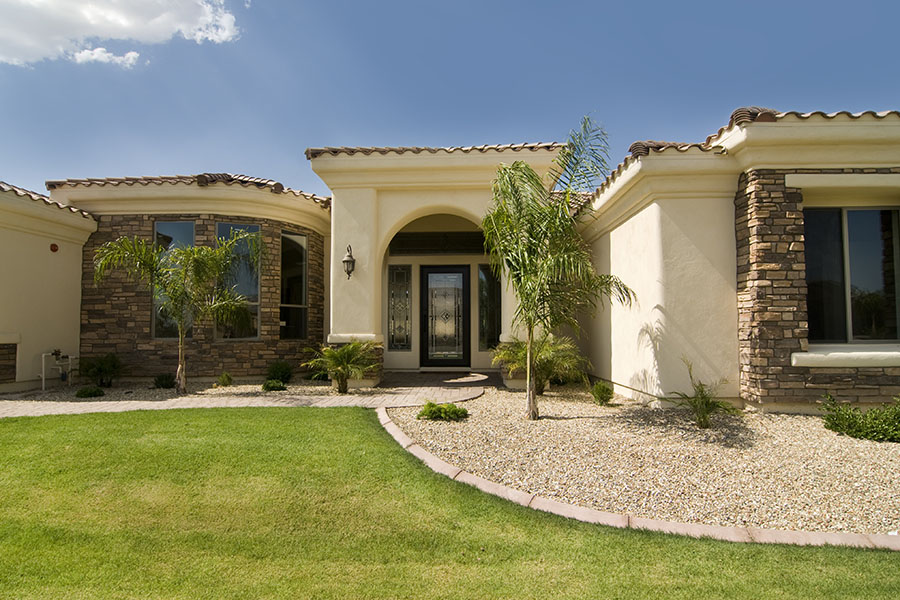 When you walk through a home that hasn't been updated since the 70s, you know it. Wood paneling, upholstered furniture, sunken living rooms, and orange and green velvet are everywhere. These home design trends were all the rage in their time. But unfortunately (or fortunately), they faded out just as fast as they appeared.
So now that you are building your own home, you need to ensure that you are using home-building trends that will stand the test of time, unlike their groovy predecessor. Of course, you want your home to look modern and trendy, but there are certain design elements you can implement that will age well and continue to give your home life for decades to come.
Let's take a look at some custom home trends in Arizona that are sure to last.
Modern Architecture
Before worrying about how to decorate the inside of your home with furniture and bold color artwork, think about how to decorate the interior of your home with the house itself. To do this, choose architectural design elements that make a statement.
For instance, dramatic ceiling finishes are a popular choice. Many custom homes now use the ceiling as a centerpiece that draws the eye upward by including natural materials such as stained wooden beams or intricate panel work. Barreled and coffered ceilings also show off a design style that makes a home uniquely beautiful.
Using lighting to transform your space is another way to use the architecture of your home as a decorating trend. Rather than depending on light fixtures and bulbs to light your home, try building large bay windows, folding glass walls, or french doors.
Energy Efficiency
Beyond design elements that are trendy, there are several popular features you can include in your new home that are good for the environment and for your wallet. Recently, it is becoming important for homeowners to leave a smaller carbon footprint. Knowing that your home isn't contributing to the earth's pollution can help you rest better at night.
Therefore, many home builders are finding ways to build eco-friendly homes. From the use of solar panels for energy production to the installation of energy-efficient appliances in the house, there are several decisions you can make toward building an environmentally friendly dwelling.
Additionally, in Arizona, there are many ways to design your landscape to use the least amount of water possible. This allows your yard to look lovely year-round while also aiding the environment.
Smart Home Features
One of the most popular interior design trends for 2022 involves home automation. Some may look at new technology and be scared off because it is new and confusing, but if you take a moment to learn, smart home features can significantly enhance your ease of living, causing you to never look back.
Of course, home security and intercom systems have been popular for quite a while, but now, homeowners have the ability to implement automation everywhere. A few examples include remote-controlled window coverings and blinds, music players, dimmed lighting, programmed thermostats, and more. When it comes to technology use in home building, the sky's the limit, and new conveniences are being rolled out every year.
Additional Spaces
One trend that has remained at the top of the list for home buyers and is making a comeback for home builders is implementing additional living spaces in the home. Whether that be an outdoor space to sit by a fire and watch the big game or a private casita or secondary master suite for guests and visitors to make themselves at home.
When you build a custom home, you can design a floor plan with many areas for the whole family to congregate and enjoy time together or spread out and relax and not feel like you're in each other's space at all times.
Building Your Custom Home with Morgan Taylor Homes
At Morgan Taylor Homes, we strive to build custom homes that keep up with the modern trends, but that will also remain unique pieces of architecture that will not become dated in the next decade or so. Our team stays in the know of what is popular and has the expertise to know what trends will and won't last.
We enjoy working with you to bring your home-building dreams to life in every part of the process, from finding a lot, designing the floor plan, and raising the building.
If you are ready to begin designing your dream home, give us a call. We look forward to meeting with you.
Most of the good things in life happen in your home. Game nights, family dinners, restful Sundays, holiday gatherings, and more. So it's crucial to ensure that you love the space in which you live. Building a custom home is the best way to accomplish this goal. But this can seem out of reach if …