5 Rustic Kitchen Design Ideas To Give Your Space A Cozy Makeover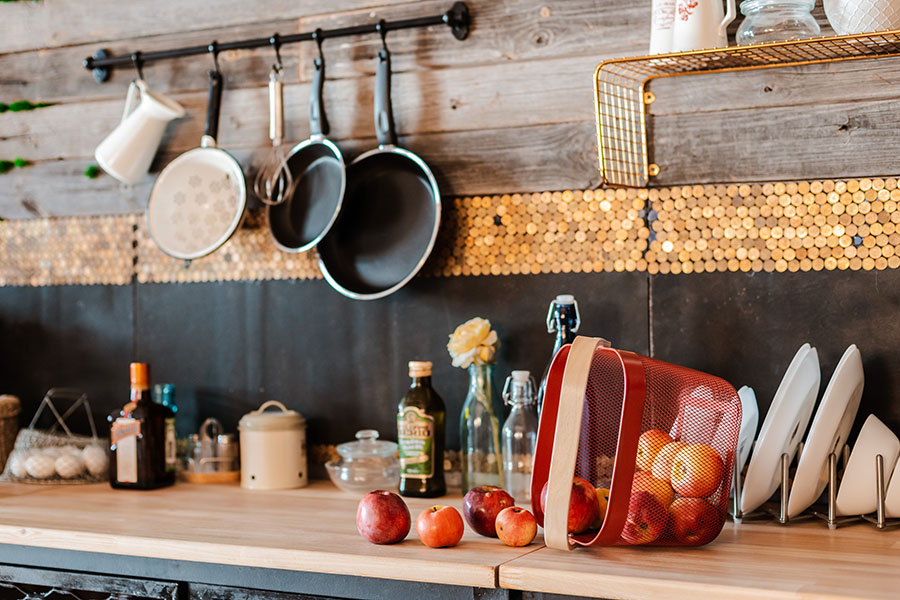 Your kitchen is the heart and soul of your home.
But if modern minimalistic designs like these don't exactly give you warm and fuzzy feelings, you might find yourself struggling to achieve the cozy kitchen corner of your dreams without compromising on great style.
Sound familiar?
Then it's time to embrace the growing rustic kitchen design trends that contractors and D.I.Y decorators have been using to transform uninviting spaces into warm safe havens that you'll be proud to share with your dearest family and friends.
Try these 5 simple rustic kitchen features for yourself, and get ready to feel more at home than ever before…
1. Use Natural Materials
One of the easiest and most eye-catching ways to add a rustic flair to your kitchen is by utilizing natural wood to complement your existing marble or granite countertops and add contrast against modern stainless steel appliances.
And whether you're building your kitchen from scratch or just updating your current aesthetic, a stunning piece of reclaimed wood can be used to…
Revamp your space with lofty wood beams that give an open atmosphere in any size kitchen
Create convenient and chic wood shelving for storing your must-have kitchen staples in style
Add a pop of texture to your countertops with a standalone wooden island or butcher block
Bottom line?
Natural wooden accents are where high-end aesthetics meet old-school comfort.
2. Add A Colorful Splash
In most rustic kitchens, neutral colors are a must.
But that doesn't mean you have to settle for bland designs that don't reflect the vibrance of your home life.
With just one simple pop of color, you can instantly refresh your space without the worry of going "too bold."
Easy to install and even easier to maintain, a colorful tile backsplash is a unique way to add your personal style to your kitchen while still maintaining a classic neutral palette.
Whether you decide on a few small accent tiles or a more complex mosaic design, the colorful possibilities are endless.
3. Embrace Seeing Green
Of course, no rustic kitchen could be complete without celebrating Mother Nature's go-to decor.
Adding a touch of greenery to an indoor space not only gives you a natural and affordable pop of color but it's also been shown to decrease stress levels and improve the overall air quality in your home.
Here are a few easy ways to incorporate greenery for a rustic touch
Build a window sill herb garden for a flavorful addition to both your style and cooking
Add sleek hanging air plants for a cozy look that calls for minimal care
Create an accent shelf for displaying your favorite small potted house plants
Modernize your gardening with a sleek hydroponic garden that embraces rustic living for the high-tech age
No matter how green your thumb may be, these easy kitchen features are guaranteed to add a dash of vibrance to your home all year round.
4. Lighten Up
The right lighting can make or break the overall aesthetic of your space.
If you dream of walking into a kitchen that always feels like a warm welcome, you can start by replacing ultra high-wattage light bulbs with softer options, instantly painting your room in a cozy glow.
And if you're ready to really give your kitchen the rustic transformation, you can use a variety of rustic accent light fixtures or hanging pendant lights designed to provide you with plenty of visible light that can be customized to your needs.
Of course, not all lighting upgrades have to be costly.
You can incorporate soothing natural light into your kitchen with simple window features that let the outside shine in.
5. Open Up Your Space
Rustic kitchens are designed to give you and your loved ones a comfortable place to come together, laugh, and share the ups and downs of each day.
To create the ultimate comfy-chic gathering zone, consider opening up the overall concept of your space, giving you the freedom to seamlessly flow throughout your room.
With the help of our experienced design team at Morgan Taylor Homes, you can dissolve any unnecessary barriers in your room and craft a customized floor plan that blends function, style, and family-centric living all in one place.
Bring Your Rustic Dreams To Life
You deserve to come home to a space that feels like "you," no matter what your design style may look like.
That's why our team of world-class interior design experts, architects, and contractors have been specializing in providing fully custom home builds made with your needs in mind since 2007, and we stop at nothing to ensure that every minor detail reflects your unique aesthetic.
We're here to answer any of your custom rustic kitchen design questions fast, so you can start transforming your space ASAP.
Connect with us today at (480) 626-1555 and take the first step towards your ideal kitchen.
Most of the good things in life happen in your home. Game nights, family dinners, restful Sundays, holiday gatherings, and more. So it's crucial to ensure that you love the space in which you live. Building a custom home is the best way to accomplish this goal. But this can seem out of reach if …