While the first-half of 2021 forced people indoors, many found the experience exciting since they had an opportunity to reevaluate their personal living spaces. They found that kitchens, living rooms, and even entire homes were falling behind current interior design trends, which led many to want to start over with their own dream home. It was not beneficial to patch up their shack when they could free their imagination to think of wonderful design possibilities they could implement in their own custom home.
At Morgan Taylor Homes, we want to spur your creativity and help you gain inspiration by presenting the hottest 2021 interior design trends. These will get you and your spouse excited about all the gorgeous aesthetic decisions down the road that you've always dreamed of doing. Not only will these home decor trends cause you to think about your artistic arrangement but also whether a premier custom home is worth it to you.
1). Minimalism: "Less is More"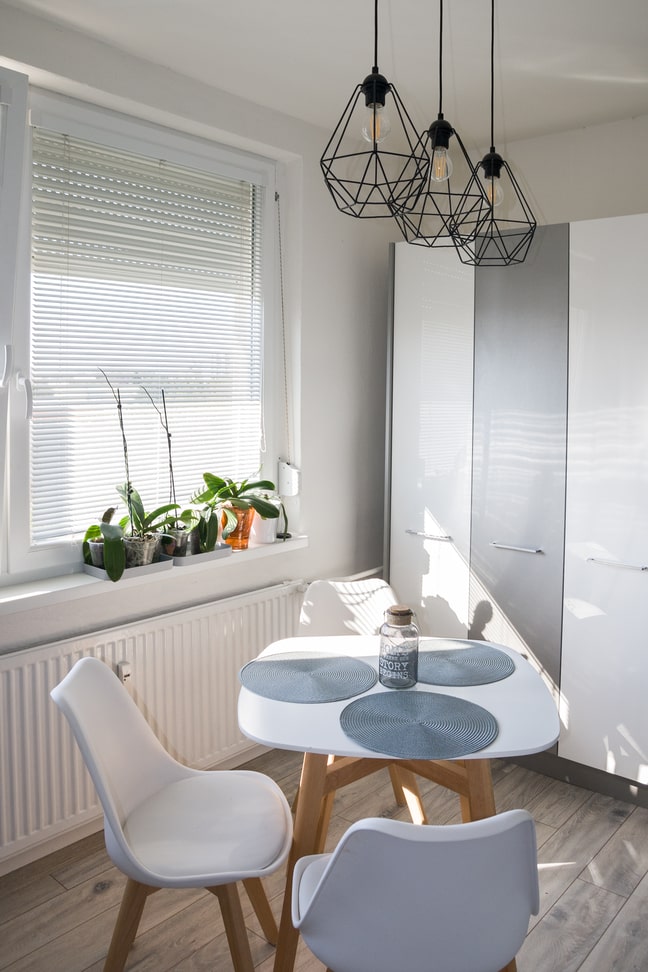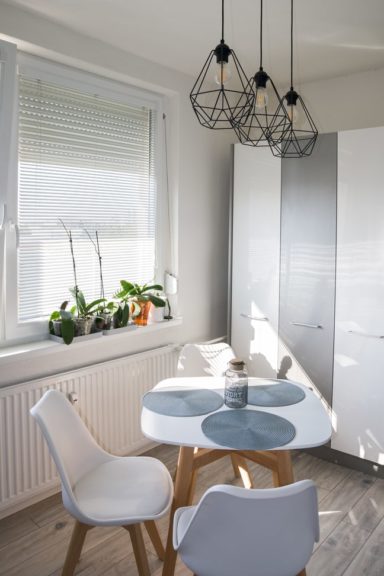 As the saying goes, minimalism commands a space by lack rather than fullness, leaving room for wide open areas and decluttered designs. Furniture, tables, and other pieces were designed with simplicity in mind, along with other accompanying elements such as clean lines and cohesive structures.
However, the definition has changed during 2021 by new trend-setters who control subtle details that define the simple design and mood. Light manipulation, indoor plants, and bold colors are ways they control an indoor scenery and highlight minimalism.
2). Stripes: Mix and Match!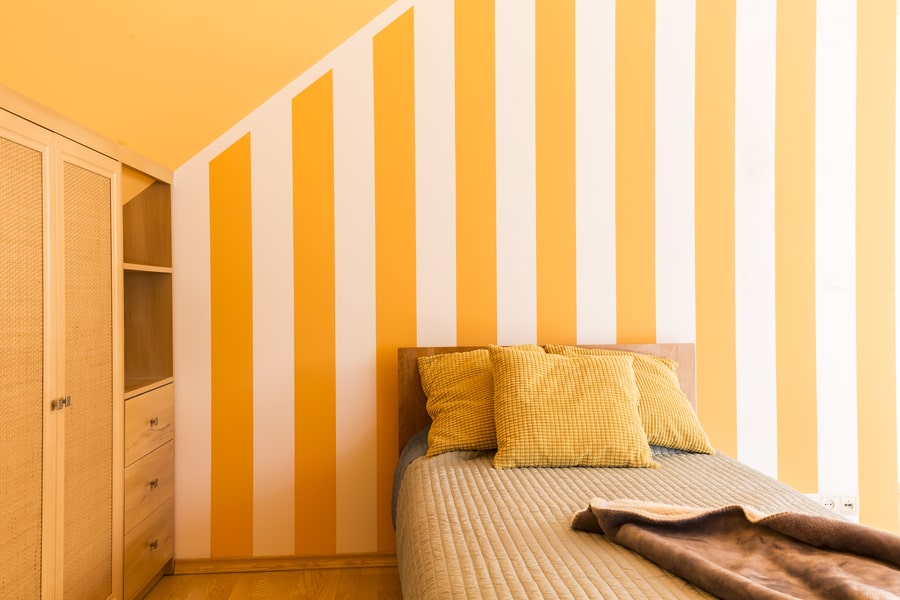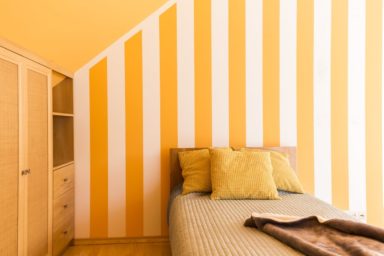 Stripes are a classic interior design trend most homeowners have forgotten about, but as this year progresses, it returns more fun than its ever been. With different colors, styles, lines, and thicknesses, you can mix and match basic to complex stripes for a surprisingly divine aesthetic.
Bedrooms are wonderful spaces to implement stripes with cushions, pillow cases, comforters, and wallpaper to balance each other out. One stripe style should not overwhelm others and repetition needs to be avoided to align your room with the hottest 2021 interior design trends.
Stripes are described by Roselind Wilson Design, an interior design company out of London and Cape Town, as bringing "a sense of drama to a space" and "providing a structure which can then be enhanced with the addition of contrasting patterns and colors".
3). Vintage: The Storyteller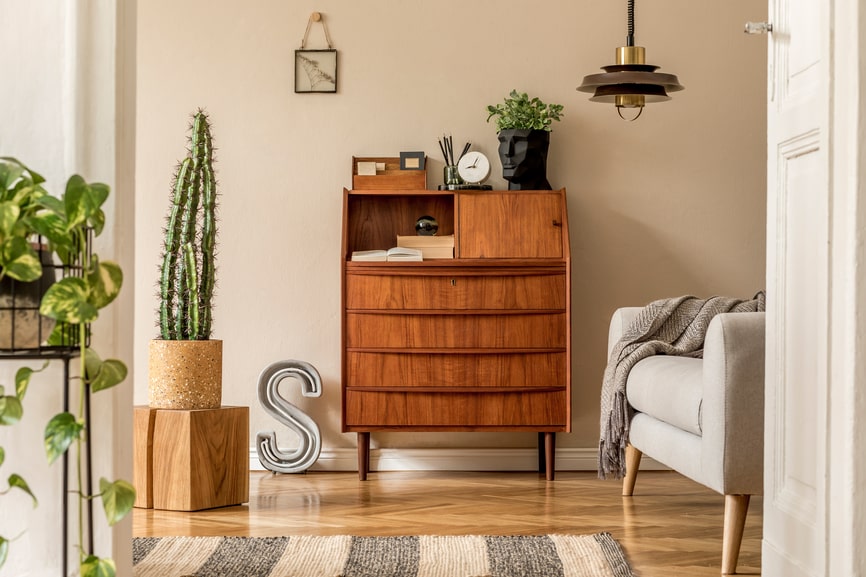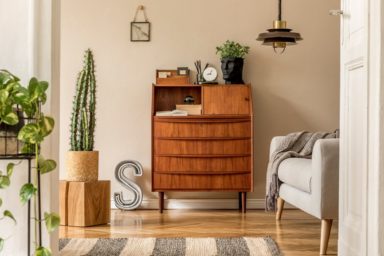 Every coffee table, china cabinet, lamp shade, and side table tells a story based on its history and the era it originated from. You may resonate as a granny chic with a specific time period that defines who you are and the pieces you select seek to tell your story as well.
Lauren Buxbaum Gordon of Nate Berkus Associates agrees by stating that their clients are "mixing and matching old and new and even purchasing locally-made souvenirs while on their travels to help tell the story of who they are."
"Vintage" does not only have to be restricted to antiques: salvaged and repurposed pieces also fit into the category. Whatever mid-century retro or unique pieces you neatly arrange for your interior design, make sure you reference rather than recreate these stories.
4). Blues: Creating a Calm Mood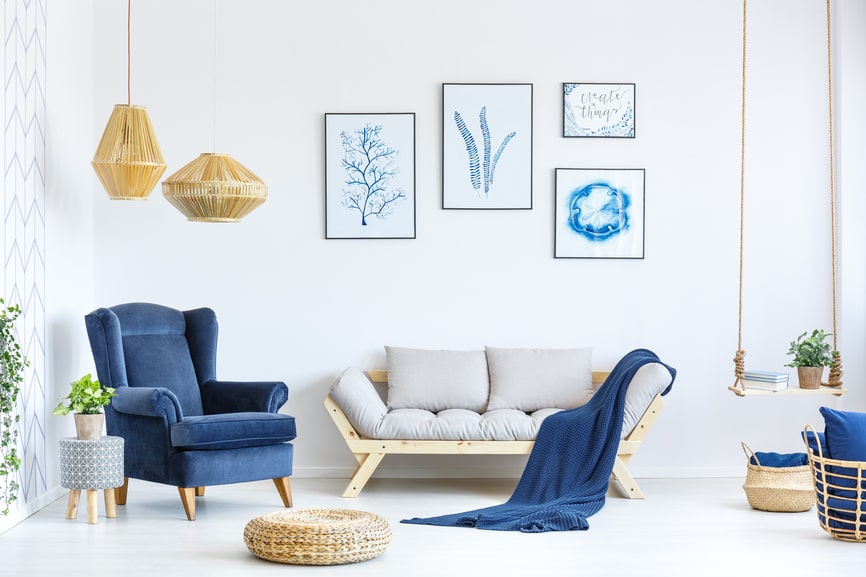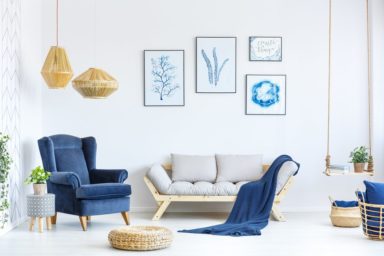 Art is directed by feelings and creates an emotional atmosphere where others can participate in that mood. Both deep and bright color palettes of blue represent calmness and relaxation that contrast the anxiety of 2021, making it a necessary interior trend.
Your guests are eased into your home when they are reminded of tropical waters, oceans, poolsides, and beaches. The color blue is versatile and can be displayed as an accent wall or applied to specific furniture such as an armchair.
5). Home Offices: Functional Works of Art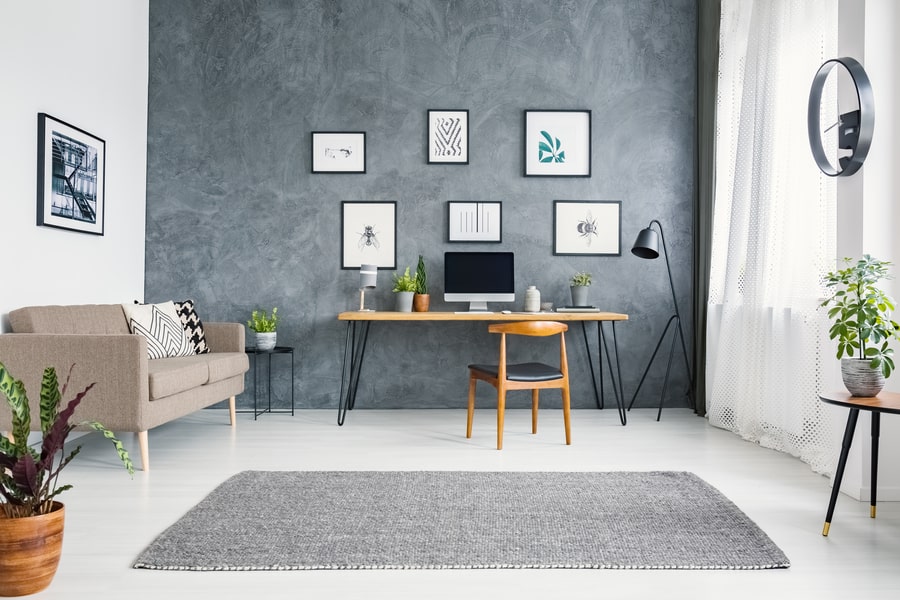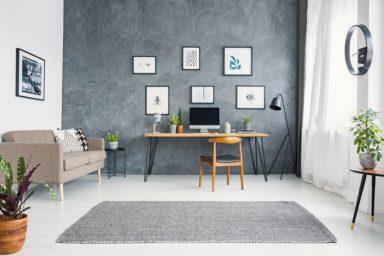 Interior design trends this year follow the rise of remote jobs and provide a stylish solution to working at home. Boring black chairs and office desks are forgotten in 2021 as designers have combined minimalist, blues, and other modern design choices.
Home offices have become more than just a desk setup: they are living, breathing parts of interior design. Depending on a family's space needs, they may opt to turn an entire room into a home office while others may convert a closet to be economical.
"A flexible workspace and fashion-forward decor," mentions Lisa Adams of LA Closet Design, "help to blend these two functions seamlessly into a space that is both inspiring and productive!"
6). Maximalism: When Less isn't Enough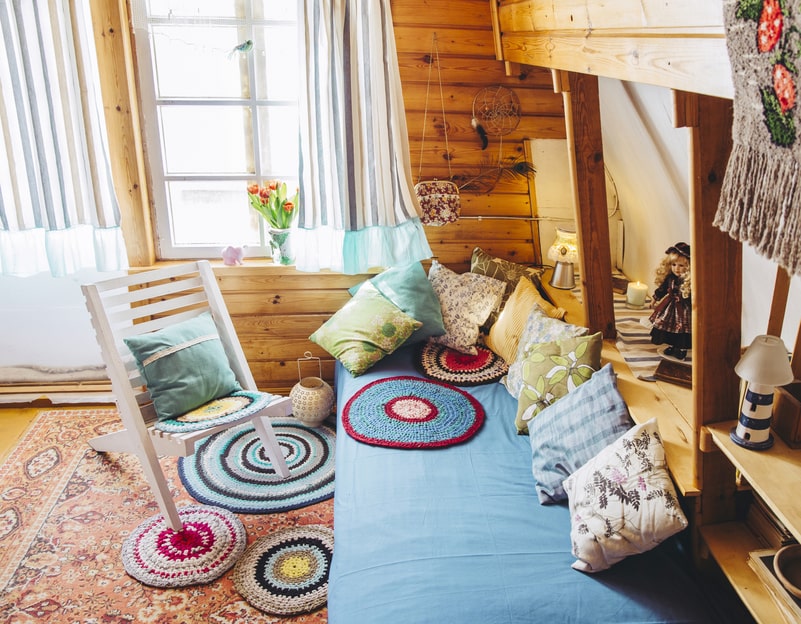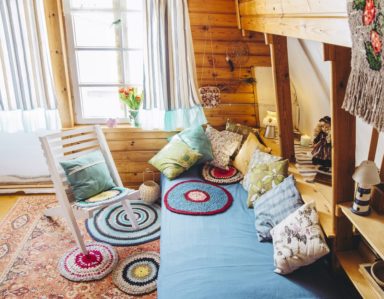 While minimalism interior design trends continue, maximalism has become modern again with statement pieces ranging from bizarre to exquisite. Similar to the vintage design aesthetic, maximalism tells a story through the styles of wallpapers, furniture, and rugs selected.
Tali Roth from Tali Roth Interior Designs says that the 2021 pandemic has "pushed [us] to want high-quality, highly-detailed, and very special interiors."
This interior design technique specializes in being bold so you can impress your guests and make your home the envy of the neighborhood. Lately, custom home trends have seen intricate, valuable pieces such as dark floral patterns and stained woods that add depth to any room.
7). Indoor Plants: Social Media Sensations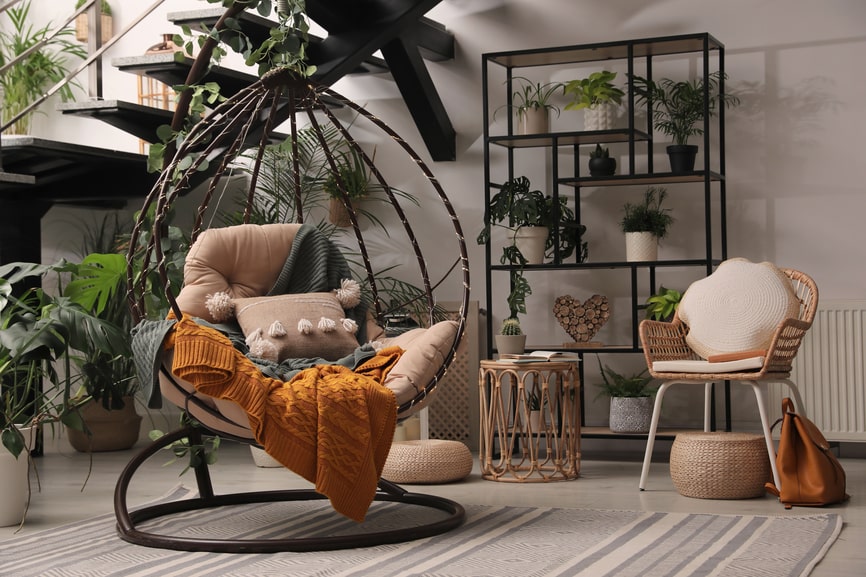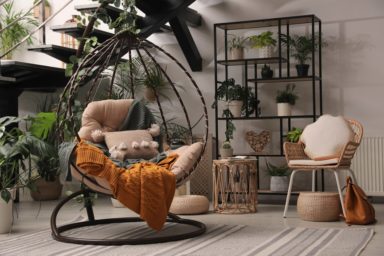 Contemporary influencers on Instagram and Facebook have showcased luscious interior design through house plant usage. Miniature succulents pair nicely with functional home offices while larger indoor plants and greenery can be displayed anywhere: the living room, kitchen, or dining room.
As the seasons change throughout the year, trendy interior designers can switch their plants out accordingly, creating endless design opportunities for people to connect with nature. Although the indoor plants style fell away in the 90s, current interior spaces such as coffee shops have revived them.
8). Rattan: Traditional Meets Modern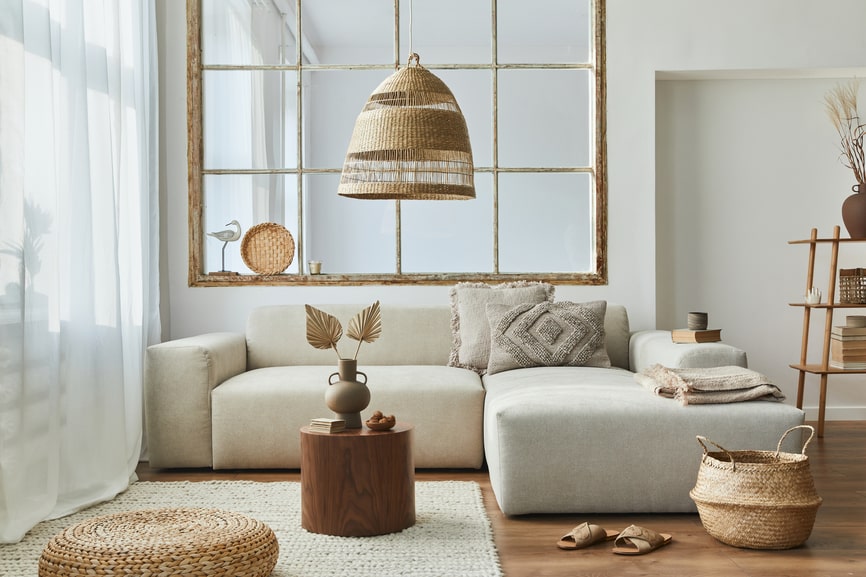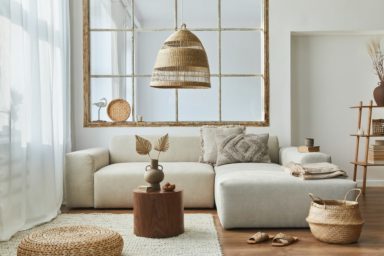 The hottest interior design trends of 2021 have seen the return of rattan, an Old World climbing palm plant that has natural fibers woven together for multiple design purposes. A living room can stand out among past arrangements by a whole rattan set with chairs, wall displays, and chandeliers.
Interior designer Nicole Fuller of Nicole Fuller Interiors says that rattan "is the perfect layer to balance modern and traditional styles".
This natural material does not overwhelm a 2021 living space with archaic aesthetics but rather celebrates them through balanced representation.
Our Designers Know Custom Homes are Worth It
While dreamers and idealists put their Pinterest boards together and are longing for the house of their dreams, our interior design experts are making those aesthetic desires a reality. They know that a traditional home will need a complete renovation to keep in step with the biggest interior design trends. In the end, it is better to obtain everything you could ever ask for in a house than regret it forever.
At Morgan Taylor Homes, we have an expert interior design team from our Design Studio that is ready to get excited about your living space aesthetic ideas and help you achieve them. Call our office today at 480.626.1555 so we can tell you more about our premier custom home building.
Most of the good things in life happen in your home. Game nights, family dinners, restful Sundays, holiday gatherings, and more. So it's crucial to ensure that you love the space in which you live. Building a custom home is the best way to accomplish this goal. But this can seem out of reach if …