Master Bathroom Design Trends 2021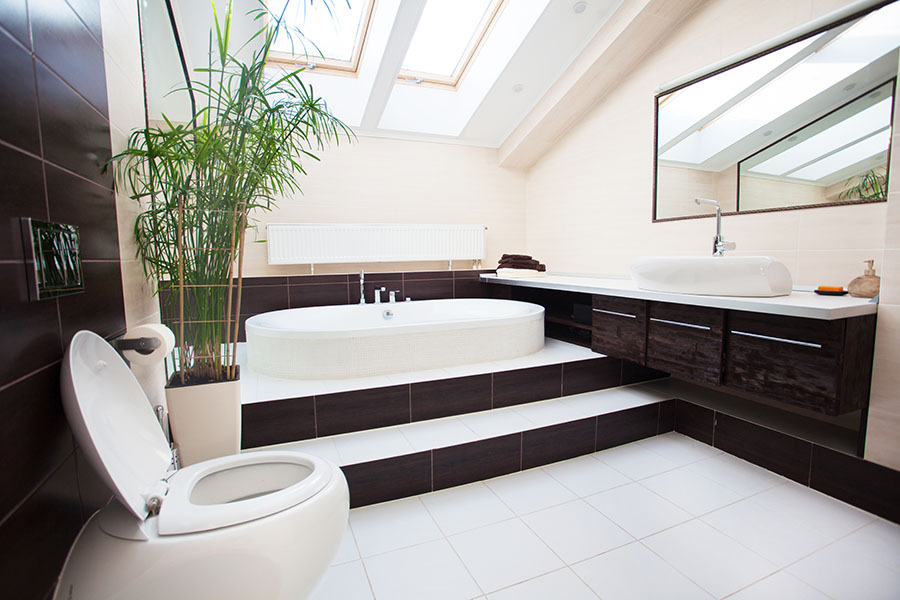 After the unprecedented and stress filled events of the last year, it is no surprise that home trends report that homeowners are looking to implement calming and peaceful features into their homes. After spending greater amounts of time at home, the living room has lost its place as the central focus of the home and every space inside is transforming into a place that helps increase quality of life. This is absolutely true for 2021 bathrooms.
It is true that modern bathroom design trends are not always timeless but we have compiled a few bathroom trends that will remain classic and improve the look of your home while increasing your peace of mind for years to come.
Amenities
Amenities are the main elements that can be found in any bathroom. These features and functions remain the same while the style can be updated and upgraded to make life easier and more enjoyable.
Floating Vanities
Bathroom vanities are not often thought to be a statement piece beyond color or counter top material such as granite or marble. But there is a new trend toward including floating vanities, and this allows the entire look of a bathroom to be transformed into a minimalist luxury experience at first glance. This vanity is wall mounted to appear as if it is floating. This puts a modern twist on an age-old amenity and allows for more clean lines and clear space to be visible in bathroom space. This feature not only looks cool but aids in functionality as it is easier to clean under the space and gives less hidden areas for dust to accumulate.
Smart Toilet
This high tech feature seems like an expensive luxury but is actually becoming a common sight in many modern homes. The hygienic features such as self-closing lids, automatic flushing sensors and disinfecting lighting are increasingly becoming more sought after and necessary.
While the sleek design of a smart toilet is more pleasing to the eye, it also makes for an easier cleaning experience, as the surface area is much smoother and there aren't nearly the amount of curves and outside crevices of current typical toilets. Many new homeowners are also opting for eco-friendly added benefits such as a bidet to increase good hygiene practices and decrease paper waste.
Heated Flooring
Heating elements under bathroom tile flooring has long been a popular addition to modern bathrooms in colder climate homes but it is becoming increasingly popular to include them in homes of any climate, even those with warmer temperatures such as Arizona. It is commonly known that a shower in the early morning can be a cold experience, no matter what the temperature of the day might be.
A lesser known fact is that bathroom carpets or rugs included to counteract cold and wet shower feet are often an unhygienic trap for mold. Removing the need for deeply absorbing and warm fabrics underfoot by implementing heated flooring may not only benefit your experience, but benefit your health.
Soaking Tub
Common since the claw foot tubs of the Victorian era, soaking tubs are not a new or foreign element to the modern bathroom. Statement soaking bathtubs have always been a significant feature in bathrooms and most likely always will be. The styles and looks though are ever-changing and ever improving though. In recent years, a popular bathroom idea is to choose a skirted, freestanding tub over a clawfoot or pedestal tub because they tend to be more sleek and modern looking, easier to clean, and a tad bit deeper since they sit directly on the floor.
Walk In Shower
For years, the trend has been to move away from building a combined shower and bath in a master bathroom and that remains true. Though the design of a luxurious shower is often changing. First shower curtains were replaced with glass shower doors and now the popular choice is to forgo the door altogether and opt for a walk in shower. The size of a master bathroom shower is also increasing to a much larger space with multiple water features such as a rain or double showerhead.
Ambiance
Functionality is not the only importance when it comes to homes designed in 2021, as the ambiance and experience are gaining attention. These elements may not play a large part in the function of a bathroom but increase the quality of life and experience which can be just as important.
Bring the Outside In
Many modern bathrooms are trying to recreate an oasis feeling by including natural materials into the build such as wood and stone features to help to create a natural and calming space. Large windows with outside light also aid in creating a space that is bright, light, and open. Directly bringing in the outside with the use of plants and greenery as decoration not only aids in the serene feeling of being in nature but also helps to purify and clean the air.
Statement Lighting
Having a statement lighting piece in every room aids in the experience and feel of that room and the bathroom is no exception. A common feature used to boost the interior design of a 2021 bathroom is to select a large and bold pendant light to hang over a large central soaking tub. This increases the luxurious feeling and can also affect the mood with the use of dimming or soft yellow lighting.
Large Tile
Tiles may seem more like an amenity element rather than an ambience element but the way tiles are used can absolutely affect the experience of a room. For instance, the use of tiny mosaic tiles in a bathroom shower or flooring are a thing of the past according to 2021.
Implementing large tiles gives the feeling of being enveloped in a larger space especially if the materials used are a natural stone texture or color such as matte black. This aids in the luxury experience and gives the appearance of grandeur. Functionally, it also reduces the amount of grout used that breaks up the space and makes the space easier to keep clean!
Splash of Color
While natural colors and textures aid in the feeling of being in a luxurious oasis, the inclusion of a bright splash of color helps to create a sense of joy. In 2021, it is not a shocking surprise to find that the colors green, blue, and yellow are increasingly popular. These colors are all also found in nature through plants, water, and sunshine therefore they help to make a space unique and fun without detracting from a sense of natural calm and peace.
Creating Your Spa Atmosphere
When it comes to designing your dream master bathroom, Morgan Taylor Homes is experienced in the popular trends but also in the added elements that increase your quality of life and experience.
We desire to customize every space in your home, including the bathroom, to tailor the experience to you so that your home becomes your retreat and place of rest and relaxation.
If you are ready to design the master bathroom of your dreams, schedule an appointment with your Morgan Taylor Home builder today.
Most of the good things in life happen in your home. Game nights, family dinners, restful Sundays, holiday gatherings, and more. So it's crucial to ensure that you love the space in which you live. Building a custom home is the best way to accomplish this goal. But this can seem out of reach if …