5 Things to Consider When Purchasing a Lot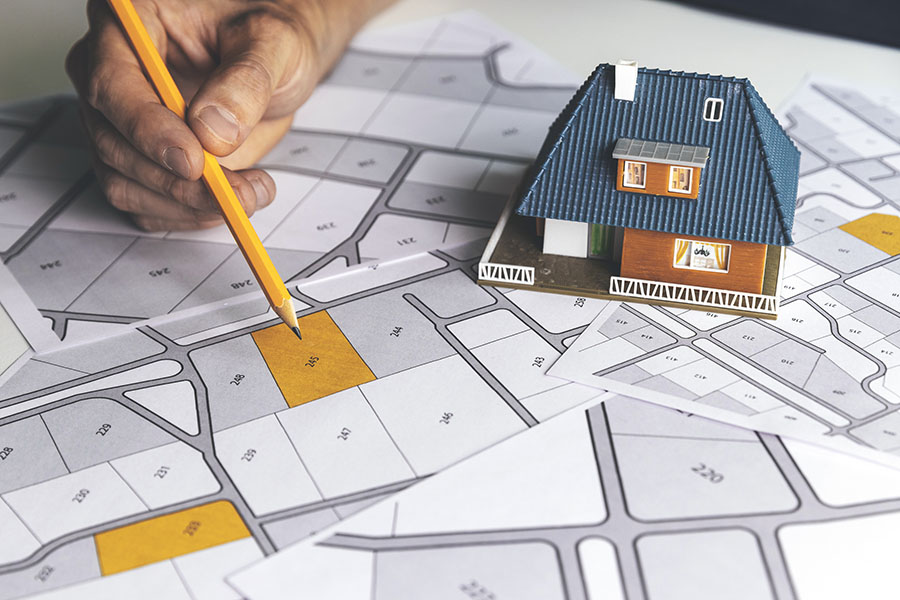 Searching for your dream home can be quite a task. Especially when you just can't seem to find a home that checks every box on your list. Of course, you can buy an existing home that is as close to perfect as possible and then complete renovations to your liking, but there is a better option: building your dream home.
To build a house, you must first find a piece of land to build on. But how do you begin that search? Do you want to be in an established neighborhood? Or would you prefer to live on a large parcel of land without nearby neighbors? These are the types of questions to ask before you begin your search for the perfect plot of land.
To help you begin your search, we've compiled a list of five things to consider when building a home on a vacant lot
1. Location
You've heard it said, location, location, location! And the saying is still absolutely true when buying a piece of land for home building. Location is your number one factor to consider before construction. You can work around permits, alter building materials, and renovate choices you don't like, but the one thing you cannot change once your choice has been made is where a home is located. Location considerations include nearby shopping and grocery stores, major roadways being too close or too far away, school zoning, parks, and activities, and more. Before your search begins, list your must-haves regarding location and start with those in mind.
2. Zoning Restrictions
Unfortunately, choosing the perfect location for your dream home doesn't just depend on your desires. It also depends on land zoning. What is land zoning, you ask? It is how local governments control the development and use of specific types of property. Zoning restrictions can work to your benefit. For instance, if you build a home on a beautiful piece of property, but then skyrises are popped up all around you, that would be extremely unfortunate. Likewise, if an area is a wildlife sanctuary and then a large neighborhood is built in the center, that would be detrimental to the ecosystem. Zoning restrictions determine if a piece of land can be used for agricultural, residential, recreational, commercial, industrial, or transportation purposes. Therefore, before you fall in love with a specific plot, make sure it is zoned for residential use; otherwise, you may be very disappointed.
3. Utilities
If you are planning to build in an already established neighborhood, then connecting utilities won't be a huge concern because it's likely that the infrastructure is already in place. But, if you want to build in a more rural area, you need to consider the difficulty and cost of connecting utilities such as connecting to a water source or planning for electricity. It is very rare that a utility connection renders building in a specific location impossible, but you may have to consider alternatives such as wind or solar power and installing a septic system. Buying vacant land in a remote area may still be your dream, regardless of utility complications, but just keep utilities in the back of your mind when searching.
4. Easements
Just because you own a piece of land does not mean you can do whatever you want with the entire property. Easements are pieces of your property that are available for use by others for specific purposes. For example, utility easements may be present for power poles or storm drains. Additionally, if you live in a rural area, your land may not have access to a public road. Therefore, you would need to use a private road or an easement through another's private property to gain road access. The necessity for easements on your property may restrict your building plans in instances where you want to build close to the property line or near existing infrastructure. Therefore, it is wise to see a land survey before land purchasing takes place to ensure that you don't buy a piece of land that won't fit your architectural plans.
5. Environmental Conditions
The last but definitely not least important consideration to make when purchasing land to build your dream home is environmental conditions or natural occurrences. When you find a piece of land you can see yourself living on, it's essential to ensure that environmental conditions aren't likely to ruin all of your hard work and investment. Of course, it is impossible to predict all-natural disasters, but if the area where you want to build is in a flood zone or if the land has been part of a forest fire in the past, there is a much higher chance that a disaster could strike. In some cases, you do not have to rule that location out entirely, but there are special building specifications you should make according to potential rain levels or special building materials you should use. If this is the case, select an architect and builder who knows how to work with these specifications.
Are You Ready to Build Your Dream Home?
At Morgan Taylor Homes, we can assist you with every step of the home-building process. Our real estate professionals are not only able to sell you an established home. We specialize in finding perfect plots of land to build beautiful custom homes. We have an available list of lots ready to go for building, or if you are prepared to begin your search, we can assist with that as well. Do you want to move into your perfect dream home as soon as possible?
Call a Morgan Taylor Homes real estate agent today.
Most of the good things in life happen in your home. Game nights, family dinners, restful Sundays, holiday gatherings, and more. So it's crucial to ensure that you love the space in which you live. Building a custom home is the best way to accomplish this goal. But this can seem out of reach if …