Deck vs Patio: Understanding the Differences, Pros, and Cons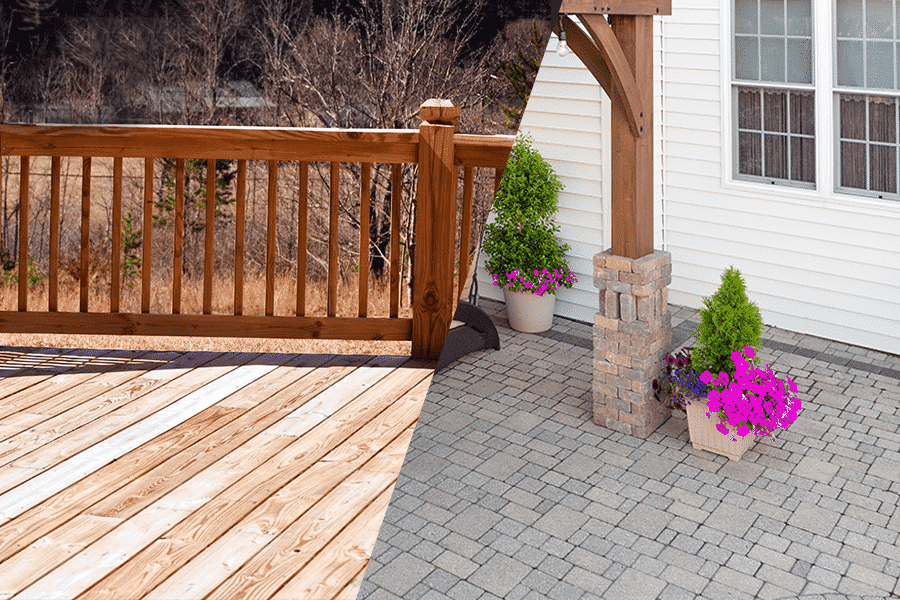 Decks and Patios are two excellent options for creating a relaxing backyard space beside your home. They also serve as a beautiful place for family recreation, outdoor grilling, and other outdoor activities. Homes with these two features often have higher resale values and are more attractive to buyers than homes without one.
If you're stuck choosing between a deck and patio, you are not alone. There are other homeowners like you wondering what outdoor living space will embody their initial design plans. Here you'll find answers to all you need to know to decide between a deck or patio for your premier custom home.
Deck vs Patio: Definitions
Decks and patios serve the same purpose: providing you a valuable outdoor living space. People even use the terms interchangeably, but they differ in construction, cost, house proximity, complexity, and materials. Custom home builders raise decks above the ground, but patios are generally flush with the earth.
Deck materials are different from those used in installing a patio since they are constructed of wood, vinyl, or pressure-treated pine, while patios have concrete bases made of stone, tile, or bricks. Builders construct decks above and near the ground, connected to the main building, but on the other hand, patios are connected to the house or built in a different part of your yard.
In most cases, railings enclose a deck, and they offer you a beautiful view of your surroundings. While a patio will provide you a similar outdoor space for fire pits, barbecues spots, relaxation, and socialization, it does not give you an overview of your surroundings. And while you may not see anything beyond your neighbor's backyard, patios do offer more privacy than decks.
Average Cost
Building a deck costs more than what it takes to build a patio. Whether installing a wooden deck or composite deck, the average cost is less when installing a patio. Stamped concrete or stone is cheaper and requires less maintenance than wood or bricks. Aside from depending on the material, the need for permits when building a deck can also raise the cost.
It is a good idea to consider the material, size, and location of your outdoor living space when factoring in your lifestyle preferences since they can also impact the project cost.
Different Building Terrains
While custom home builders construct decks on uneven ground, they have to prepare the site by setting up patios on flat ground. Building a patio may require professional work, especially if your yard surface is not plain. So it's a good idea to assess the nature of the surface underneath, as it will help you make a better choice.
Permit Requirements
Depending on the region you live in or looking to purchase a home, you may want to rethink your choice for a deck. As lovely as they can be, some decks require inspections and permits from local building authorities before you can construct one. This is because of the extra professional work that typically goes into building a deck. So be sure to check with local laws, and get the required permit (if any) before making.
Ease of Maintenance
If you're looking to build an outdoor living space that requires very little maintenance, then a patio would be your natural bet. Since they are composed of concrete, stones, and brick, they can handle wear and tear more efficiently and are more durable than wood decks.
Decks are made of wood and are prone to stains and cracks. So more frequent maintenance retains the integrity of the wood for longer. For instance, wood decks need to be repainted, sealed, and power washed at least once in two years.
Weight Restrictions
If your choice is going to be a deck, another essential factor to keep in mind is weight restrictions, which is why they require permissions and inspections. Unlike patios flushed to the ground and made of concrete, custom home builders construct wood decks underneath solid support.
Again, you'll have limitations concerning the items that will go on top of the deck, and heavy items will be better suited for patios.
Return on Investment (ROI)
If your reason for adding outdoor living spaces to your property is to raise its resale value, then you're better off installing a deck. But, of course, that's after ensuring that the other criteria check out. While a deck requires a higher initial investment, the real estate marketplace values them more than patios.
We Can Help Decide Your Custom Home Outdoor Setting
Choosing between a deck or patio for your premier custom home can be difficult when considering the legal, financial, and personal factors that weigh into the decision. However, with an experienced team of designers, architects, and home builders, you can see the choice from all perspectives.
At Morgan Taylor Homes, we are here to help you make that choice and show you other unique outdoor living space options to customize your dream home. Our goal is to include you in the new standard for Arizona custom and semi-custom homes that far exceed any other modern properties. You can call one of our locations at 480.626.1555; we look forward to speaking with you.
Most of the good things in life happen in your home. Game nights, family dinners, restful Sundays, holiday gatherings, and more. So it's crucial to ensure that you love the space in which you live. Building a custom home is the best way to accomplish this goal. But this can seem out of reach if …