New Home Design Trends for 2020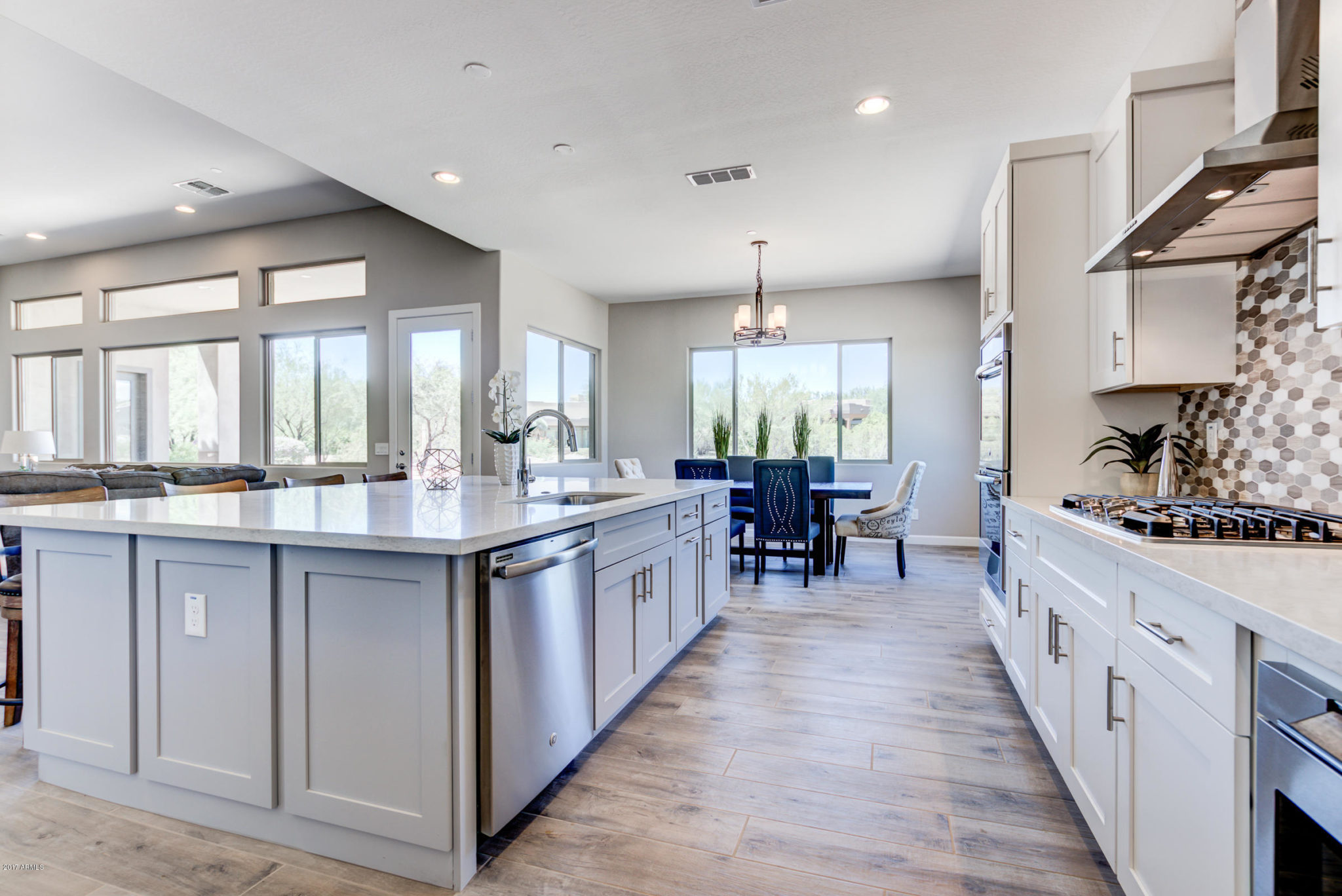 As the largest Custom Home Builder in Arizona it is very important for us to keep up with the latest Home Design and Architecture trends. Our in-house designers are always looking to keep our samples up to date and in line with what our home buyers love. If we don't have something specific in our North Scottsdale Design Studio, we can often locate it and source it for you. Whatever your vision is, we're happy to work with you to make it happen.
As you prepare for your visit with the Morgan Taylor Home's Design Studio, take a look at some of our favorite trends of 2020 so far!
2020 Design Trends
Dark Colored Kitchens or Dark Colored Accents in Kitchens
For those that are ready to embrace the bold and dramatic, a kitchen that utilizes dark colors like black or navy might be what you are looking for. Black cabinets are a huge hit right now and look particularly elegant in large kitchens. For the epitome of chic design consider pairing black cabinets with a white marble or quartz countertop. Stainless steel appliances and hardware match particularly well.
If doing the entirety of the kitchen in dark colors seems too overwhelming consider using them as an accent in your kitchen island (either in a countertop or cabinets) or shake it up with slate appliances. The kitchen example we have below is from one of our custom homes and it features traditional style cabinetry, stainless steel hardware, stainless steel appliances, and a beautiful marble-like quartz countertop that extends into a full sized backsplash. The modern coffered ceiling is just a bonus in this spectacular space!
Two-Toned Cabinets
In the previous section we mentioned doing a kitchen island in a different color than the rest of the kitchen, which is a big trend on its own! Whenever you have two different colored cabinets in one kitchen, this is called "Two-Toned Cabinets." This is such a big look that has not only taken over pinterest, but our design studio as well, where our showcase kitchen island is different cabinet color than the rest of the showcase kitchen!
Another two-toned cabinet method is to have the upper cabinets be a different color than those on the bottom and island. The two-toned cabinet approach is a great design trend particularly when you are looking to add an eclectic touch to your kitchen. This is definitely a trend that feels very 2020, and we will be seeing it for quite some time.
The kitchen we have showcased below utilizes black cabinets throughout most of the space, but has a waterfall edge island with contrasting oak wood cabinets. It is a very modern and elegant look that works well in our most contemporary homes. This particular kitchen was done in one of our modified Amelia [https://www.morgantaylorhomes.com/floor-plans/the-amelia/ ] floor plans. It also features custom hardware pulls in a matte black finish and a matching Delta kitchen faucet.
Neutral Kitchens with Wooden Cabinets
There is definitely something to be said for an understated, neutral kitchen! With its timeless appeal, you'll find yourself enjoying the space for a very long time. The most important aspect of this style is to utilize a neutral colored cabinet, preferably one that is wood and emphasizes the wood grain. Pairing the cabinets with a natural toned countertop will really bring the look together, but a natural and textured backsplash can really take it to another level. Stainless Steel appliances will also stand out with finishes like these.
The kitchen below, from our Manzanita floor plan features a stunning selection of ash, shaker style cabinets paired with light colored quartz countertops and a textured, subway tile backsplash. The matte black hardware adds the contemporary touch that lets you know this is new and stylish. This is a great kitchen design trend if you are looking for something more timeless than trendy.
Extra Large Kitchen Islands
Kitchens are often referred to as the heart of the home which makes kitchen islands an ideal place to gather. Many of our semi-custom floor plans include extended islands and our home buyers love them! With more than enough space to add several bar stools, these spaces become must-haves for those who love entertaining or have a big family that loves to be involved with cooking or baking.
Another feature that homeowners love adding to their islands is a farmhouse sink, which is not only practical but beautiful as well. These farmhouse sinks are especially popular in stainless steel due to the steel's modern appeal and durability. Check out some of our favorite kitchen islands below. As you can see, a kitchen island is a fabulous feature in any home with an open floor plan!
Oversized Statement Pendants and Chandeliers
Thanks to a relatively low cost and easy installation process, lighting is always a great way to make a bold design statement. Our homebuyers, in particular, love adding these dramatic fixtures above their kitchen islands. For a funky and eclectic look, choose your pendants in a different hardware from that of the rest of the space. For example, the pendant lights showcased in the image below are a dark bronzed caged style that pair beautifully with their surroundings.
The kitchen isn't the only space you can spruce up with statement lighting, with many people adding them to their bathroom as well! A properly placed pendant in a master bathroom can really elevate the space, making it feel like your own personal haven of relaxation. The bathroom example below shows a statement chandelier placed above the bathtub, which really makes it feel like you've been transported to your own personal spa.
Master Bedroom Fireplaces
Looking to turn your master bedroom into your ultimate oasis of relaxation? A fireplace in the master bedroom might be exactly what you need. With the beautiful appearance of a customized facade and the soothing sounds of a crackling fire on a chilly night, a fireplace turns your master bedroom into a master's retreat.
The following examples of bedroom fireplaces have two different looks, but achieve the same relaxing effect.The first example utilizes a neutral, warm toned color palette and a stone facade fireplace for a very cozy, yet clean aesthetic. The second example is much more dramatic and bold with the use black accents against a white marble fireplace. Either way, both spaces are an inviting place to unwind thanks to their respective fireplaces.
Large Walk-in, Tiled Showers
Easily one of the biggest and most popular design features we see at our design studio is a large, tiled, walk in shower, and oftentimes not just in the master suite but throughout the home's remaining baths as well. These showers can stand alone or are paired with a soaking tub for extra luxury. Another popular feature that is often added is an extra showerhead, or rain style showerheads so you can experience your best shower ever, right at home.
The tile that homebuyers often choose for their showers is one that is not overly textured so it is easy to clean and maintain. A good neutral color palette with a decorative band reigns above most other color selections. The image below demonstrates these key design elements, including the multiple shower heads, decorative tile band, neutral color palette, and easy to maintain tile selections.
Whether you have chosen to build a semi-custom or fully custom home there is an abundance of options when it comes to picking out the design selections for your new construction home. It can often be very overwhelming, but with a little bit of research and our designers guiding you through, you will end up with a beautiful home that feels completely you.
For more design inspiration check out our pinterest to see some of what our past homeowners have chosen for their homes!
Design tip: If you'll be visiting our design studio soon start a Pinterest board of your own and show us what you've put together on your phone or iPad when you come in! This can help our designers get a head start on piecing together your dream home.
Most of the good things in life happen in your home. Game nights, family dinners, restful Sundays, holiday gatherings, and more. So it's crucial to ensure that you love the space in which you live. Building a custom home is the best way to accomplish this goal. But this can seem out of reach if …