5 Modern Kitchen Design Ideas For Seriously Upgrading Your Space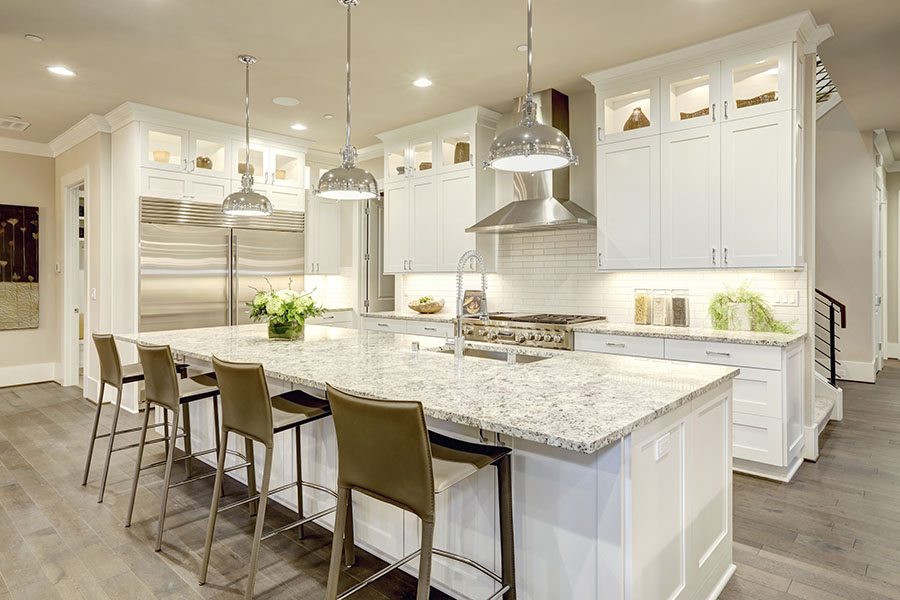 Some design trends come and go, but one aesthetic that never goes out of style is sleek, modern design for the functional spaces in your home.
Whether you're an avid gathering host or you prefer a quiet night in, having the right modern kitchen design for your lifestyle can completely transform the overall look and feel of your space.
And the good news is that you don't have to invest in a full kitchen renovation to achieve the sophisticated atmosphere you've been longing for.
With just a few simple upgrades to your space, you can turn any outdated kitchen into a modern epicenter for all of life's most delicious moments.
Today, we're looking at our top 5 modern kitchen design ideas that you can use to effortlessly level up your home, no matter what kind of budget you're working with.
1. Keep Your Color Palette Light
One thing that differentiates a contemporary kitchen from a more rustic design is its color palette.
Traditionally, rustic kitchens use warm, rich brown and red tones to create a cozy atmosphere throughout the space.
In contrast, modern kitchens use crisp, bright whites and other lighter tones to transform your room into a sleek oasis.
Besides choosing the right wall paint for your modern kitchen, there are a few simple ways you can incorporate light colors into your design scheme to seamlessly tie your aesthetic together.
Make Your Cabinets Pop
Kitchen cabinets aren't just for storing your cooking essentials.
They're a key component of your overall kitchen design and can be easily upgraded when you're ready for a more modern color palette.
White cabinets or another light neutral color are an easy way to brighten up your space with a contemporary twist.
Go For Light Wood
Whether you're picking new kitchen floors, upgrading your cabinets, or adding some extra shelving, picking the right materials can transform the outcome of your finished product.
For a modern white kitchen, you can create a cohesive aesthetic by pairing your lightly painted elements with pale or unstained wood accents.
This gives you a subtle contract for your space, while still keeping your design simple and chic.
Use Natural Lighting
Once you've created your ideal modern color palette, you can maximize the look of your kitchen by using soft, natural lighting that lets your design shine.
And while ultra-bright bulbs can cause your space to harsh or unwelcoming, adding access to warm, natural light from a window or sliding door can give you the extra illumination you need without overwhelming your eyes.
2. Try Accent Tiles
Just because modern kitchens rely on a light color palette, doesn't mean you can't add a dash of texture to your design.
If you're looking to create an eye-catching accent in your kitchen, you can opt for a bold tile backsplash that adds more dimension to your cooking and entertaining areas.
Some modern tile accent design ideas include…
Subway Tile
Subway tiles are incredibly versatile for all kitchen design styles, but can be especially useful when creating a modern kitchen aesthetic.
These long rectangular tiles are lightly divided to create an appearance of texture, no matter what color you pick.
You can use subway tiles as a backsplash behind your countertop or as a top to bottom kitchen wall design guaranteed to impress your guests.
3D Textured Tile
One design trend that has become more popular in modern kitchens is the use of textured tiles.
These backsplashes use a mixture of traditional tiles and raised, 3D-shaped glass accent tiles to create a dynamic appearance that catches the light and adds a delicate sparkle to your space.
3. Use Glossy Surfaces
When you imagine a modern kitchen, you probably envision ultra-clean spaces that seem to glisten and shine.
And by far the simplest way to achieve this effect is to utilize naturally glossy surfaces in your room so that you can enjoy a nice sparkle even in between deep cleanings.
You can upgrade your style with these chic kitchen features…
Marble countertops
Granite countertops
Stainless steel appliances
Glass kitchen deco
These naturally glossy materials can add a luxurious flair to your space and are easy to match with your existing modern kitchen ideas.
4. Create A Center Island
The more freely you can move in your kitchen, the more functional your space becomes.
If you want to get the most out of your room, but aren't a fan of full open concept spaces, you can create an organized layout with free-standing kitchen islands that are both practical and contemporary.
Even in small kitchens, making room for a center kitchen island is an easy way to add extra counter space to your cooking area and level up your entertaining game.
And if you're really tight on space, you can use hidden bar stools to transform your center island from a meal prep zone to a dining table at a moment's notice.
5. Don't Skip The Details
Finally, no kitchen design plan is complete without taking the time to add all the personal touches that bring your space together.
But if you'd like a more fashion-forward approach to kitchen decor than old-school display cabinets, there are a few easy ways to give your space a subtle pop of style, while still maintaining a minimalist vibe.
Light Fixtures
Adding a statement light fixture to your kitchen is a great way to increase the visibility in your room and highlight your unique taste at the same time.
For example, pendant lights come in a wide variety of colors, shapes, and sizes, and are easy to add to a kitchen of any size for a bold touch of style.
Open Shelving
Whether you're an avid coffee mug collector or you're looking to show off your kid's latest artistic creation, open shelving is a perfect way to create more storage space and add stylistic elements to your kitchen.
Floating shelves are easy to install, ultra-durable, and offer a more modern take on the classic china cabinet.
Statement Wall Art
Of course, nothing creates a sense of style like a conversation-sparking piece of artwork.
Here are 2 modern ways to incorporate your favorite art into your kitchen…
Gallery Walls
If you don't currently have any large statement pieces, you can arrange a collection of your best items by creating a gallery wall near your kitchen.
These versatile wall spaces are the perfect way to showcase family photos, colorful paintings, or abstract wall hangings in one cohesive display.
Accent Art
For a truly modern minimalist approach to kitchen decor, you can choose just one bold piece of artwork to act as the centerpiece in your space.
This type of design is ideal for abstract art pieces and can be displayed on a countertop, shelf, or on the entry wall of your kitchen.
Upgrade Your Kitchen For Modern Living
There are endless creative possibilities when it comes to creating a stunning modern kitchen design.
And no matter what you're starting with, adding the right small touches to your space can instantly upgrade your design scheme and add a sophisticated flair to the most important room in your home.
Modern kitchen must-haves like…
White kitchen cabinets
Naturally light wood materials
Dynamic tile backsplashes
Marble and granite countertops
Stainless steel appliances
Convertible center islands
Hanging pendant lights
Floating shelves
…are all simple, yet effective ways to transform your style without breaking your budget.
At Morgan Taylor Homes, our interior designers have been helping homeowners create the custom modern kitchens of their dreams since 2007.
We work hand-in-hand with our clients to ensure that every detail meets their design goals, and our team of architects, contractors, and decor experts stop at nothing to bring their vision to life.
If you're ready to give your kitchen a luxurious modern makeover, we're here to help you every step of the way.
Connect with us today at (480) 531-9869.
Most of the good things in life happen in your home. Game nights, family dinners, restful Sundays, holiday gatherings, and more. So it's crucial to ensure that you love the space in which you live. Building a custom home is the best way to accomplish this goal. But this can seem out of reach if …