Small Home Gym Ideas on a Budget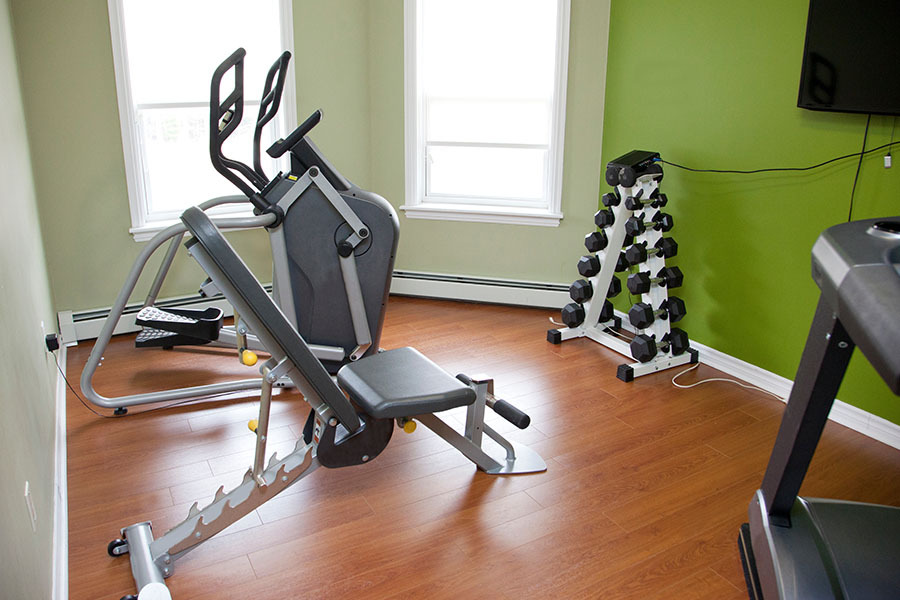 Providing a roof over your head and a safe place to sleep are the number one priorities in life. But it's important to remember that taking care of yourself physically should also be important. You can ground and center yourself with these two aspects of life, increasing your mental health.
But where do your residential and fitness priorities intersect? In an at-home gym or workout space.
It's easy to invest in a gym membership or personal training session to get your morning sweat in. However, parents and corporate leaders may have challenges traveling to and from the facility. The price can be too steep in some cases, and free-falling out of fitness is all-too-common.
Rather than dropping fitness goals altogether, what is the alternative? Building a home gym.
Building a home gym on a budget is a great option for those who desire to care for their bodies and want to maximize their time at work and with their families. Here are some tips for how to create a budget-friendly small home gym.
Maximize Space
The first idea for building your small home gym on a budget is taking inventory of the space you have available for exercise. You may think there's nothing available in your home, but we believe it's possible to maximize almost any small space. Basements, garages, living room corners, or sunrooms are great options to try.
Organizing your home equipment is the key to getting the most out of your space. It isn't an option to leave weight plates stacked in a corner, and yoga mats rolled out on the floor when your space is limited. Not to mention, it is not aesthetically pleasing or safe for kids that could trip.
Instead, you should make home gym equipment accessible even when stored. For example, take advantage of wall space by hanging iron plates or bars. Baskets or furniture draws are great for small fitness items, such as jump ropes.
Utilize Flexibility
For small spaces, it's vital to partner organization with flexibility. This is especially important if you are trying to set up a home work-out space in a multi-purpose room.
The odds are high that you do not want barbells hung along your decorative living room wall. Therefore, you should tackle the modern interior design trends that blend in with the space.
One way to do this is by buying a beautiful floor-length mirror to operate as decor when not in use. Also, you can transform a window bench into a flat bench for lifting and stretching.
Simplify Equipment
If space and money are no object, purchasing a total gym set up with a treadmill, bicycle, power rack, and more makes for an awesome home gym. But what you may not know is that there are other ways to create functional home gyms without spending thousands.
We recommend shrinking these big-ticket items into simplified versions. You should first identify fitness goals with a trainer or coach and create work-outs to reach them. They can assist with modifying the equipment to match your budget.
For instance, if you are not an avid runner or prefer to run outside, you have no need for a treadmill. Also, you may only need access to a television to complete cardio workouts through aerobics at home. Adjustable dumbbells and adjustable benches are only a few of the various strength training options at a lower price point.
Shop Secondhand
When working with a tight budget to stock your home gym, it is unnecessary to purchase everything brand new. Most work-out equipment has excellent durability and lasts for years if you take care of it properly.
In most cases, second-hand stores, online marketplace sales, and friends and family carry high-end pieces of equipment for cheap. They may need it anymore and sell it for less than what they paid and what retail charges.
You can stock an at-home gym with functional equipment by looking for the best deals in your local area. Don't break the bank just to get a better body when you can do it for less.
Make the Most of Portability
At-home athletes have an advantage over those who are tied to a specific gym location: portability. Fitness facilities cannot tag along with you when traveling, but portable equipment can.
Having small and mobile equipment at home means you can take it with you or exercise on the go. This leads to more consistency and better chances of working out when outside of your regular routine.
Understandably, you cannot pack up all home gym equipment, such as a squat rack. But a portable alternative while on a business trip could be throwing resistance bands in your bag for a beach warmup. Travel yoga mats are great at the park for a change of pace and scenery.
Having a home gym doesn't just mean a gym at home, but a gym anywhere you choose to be.
Building Your Budget Home Gym
When building a new home, it's a great idea to know your fitness goals and dreams in advance so that you can plan ahead. Save thousands of dollars in equipment and gym memberships by knowing whether your home can support an at-home gym.
You may choose to increase your square footage for a designated gym room or design a unique floorplan that places a work-out nook off the dining room. In any case, custom home builders can construct a personalized home that matches your lifestyle.
Fitness is a priority to us if it's a priority to you. When meeting with our architects and designers, mention that you would like a designated home gym space so that we can make that idea a reality.
Call us today to get started on the home and home-gym of dreams.
Most of the good things in life happen in your home. Game nights, family dinners, restful Sundays, holiday gatherings, and more. So it's crucial to ensure that you love the space in which you live. Building a custom home is the best way to accomplish this goal. But this can seem out of reach if …