5 Creative Ways to Maximize Your Home's Small Space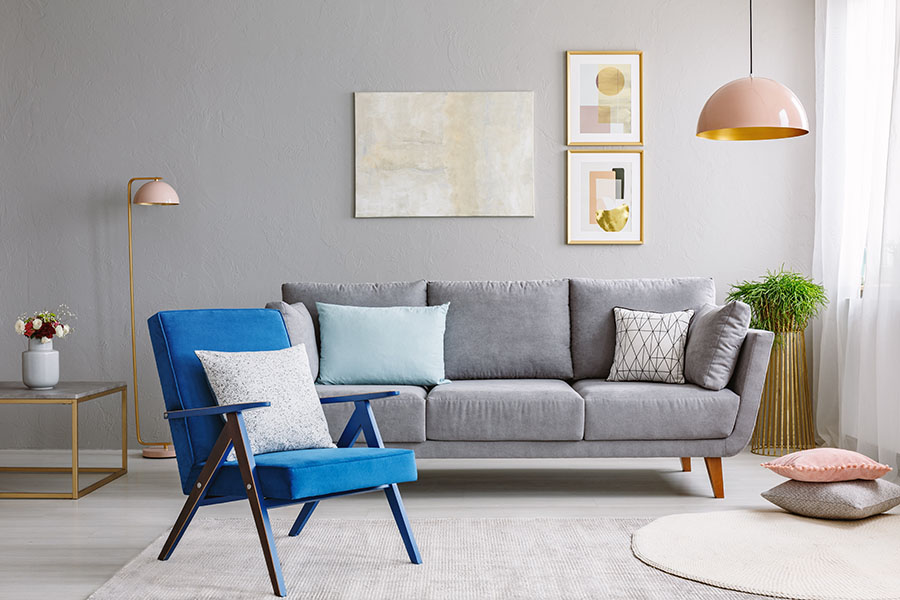 It can be difficult to navigate your current home if you have a large family, entertain large groups often, or simply enjoy a spacious floor plan. Some may prefer a more intimate and cozy space, but others are struggling to live each day in a residential space they've fallen out of love with.
We want to ignite the spark that revives your zeal for every room in your house. You and your kids shouldn't have to loathe coming home from work or school to a cramped space that's bound to cause arguments and shouting matches. Making careful design choices can make any small space feel open, large, and perfectly yours.
Maximize Storage
The first essential aspect of maximizing space in a small home is implementing storage solutions that keep items and clutter out of sight without taking up living space. There are many ways to maximize storage, such as implementing furniture with extra storage space in the form of cabinets and shelving. Perhaps this means finding a coffee table that opens up, adding a storage nook in a small living room or small bathroom, or installing extra cabinets in the laundry room for supplies.
Building well-organized storage systems in closets and drawers will help keep everything in a proper place to avoid cluttering up surfaces and counters. A clean and controlled space always feels larger than a home full of messy counters and clunky corners.
Multipurpose Furniture
Finding furniture that includes storage space is not the only way to get your furniture to work for you and your small space. You can also keep floor space open and functional by adding multipurpose pieces. For instance, it is a raging interior design trend to build a fashionable home office, but you can buy one that seconds as a dining table, saving tremendous space in the dining room.
Wall-mounted furniture also makes a room feel larger by raising furniture legs off the floor and opening your hardwood and carpet for foot traffic. Mounted storage, televisions, and even shelving create fabulous focal points for interior design and detract attention and focus from the size of the room.
Optimize House Plans
In addition, you can take advantage of your space by optimizing your house plans to give everyone some breathing room. If you are trying to maximize the space in an existing home, minor changes in the furniture can allow traffic to flow through the room in a more sensical way. Or perhaps, if you are up for a renovation, knocking out a non-load bearing wall can open up space.
Your mission while optimizing the house plans is to design each space in a way that allows the floor plan to fit your lifestyle. But if you cannot achieve this with your current home, we recommend pursuing a custom home where you can choose how much space each room has. Also, interior designers have the opportunities to choose furniture that supports an open floor plan and request high ceilings, which create the illusion of large spaces.
Strategic Mirrors
You may have heard it said that mirrors cause a space to feel more prominent, and this is true. A well-placed mirror can reflect a room's open space, making the room feel up to two times as large as the area is. Not only do mirrors embellish the space, but they draw natural light and brighten up a room with a cheery air.
Mirrors are an excellent and classy design choice when looking for decorative pieces that add value to a room rather than making a small space feel too busy.
Sliding Doors
Whether implementing them in the design of a new build or renovating your home to include them, sliding or pocket doors are a great design choice to maximize space in a small house. Doors that swing in or out can take up several feet of room and create a frustrating and disorganized hallway. Utilizing doors that slide into the wall when open makes the most of excess space between your walls and keeps your rooms and hallways open and easy to travel.
Can You Maximize Your Small Home?
Whether maximizing the space in a small three-bedroom house or a cozy loft, it is essential to design your space well. Loading up a small space with large and bulky furniture or cluttering flat surfaces will make any space feel smaller. Your kids deserve to grow up in a beautiful home they're proud of and desire to take your grandkids to see one day.
Our team believes these design tips will rekindle the love for your home. But if you are unable to create the space that suits your family's needs with these strategies, we recommend looking into a custom home. Rather than suffer from a static floor plan, you can start from square one and maximize the spaciousness of your home by choosing how large rooms are.
We would love to answer any questions you have and tell you more about what building a custom or semi-custom home would look like. Give us a call at (480).626.1555 so we can help you ask crucial questions about your current living space.
Most of the good things in life happen in your home. Game nights, family dinners, restful Sundays, holiday gatherings, and more. So it's crucial to ensure that you love the space in which you live. Building a custom home is the best way to accomplish this goal. But this can seem out of reach if …