Ways to Personalize Your Home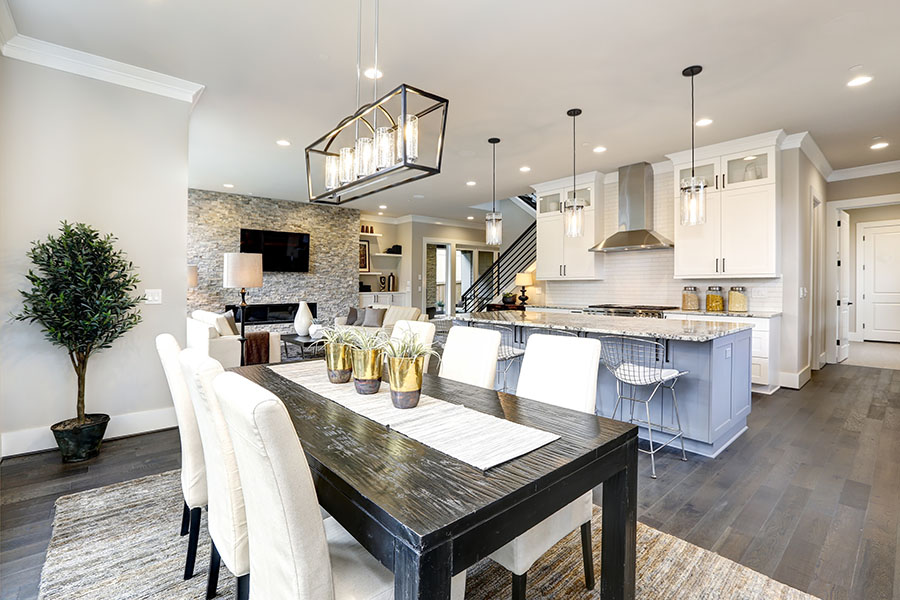 It can be exciting to start with a blank slate when personalizing your home. You can change up the style, toss out outdated decorations, and rearrange the furniture. But it can also be overwhelming to make so many design decisions at once when trying to make everywhere feel cozy.
Your family can loathe your current living quarters if they're not spaces that are comfortable and inspire you. We believe personalizing your home is the number one way to make an environment that everyone enjoys. This is especially true if you can create additional space from cramped kitchens, living rooms, and home offices with aesthetic design choices.
Here are a few design and decorating ideas to help you get your creative juices flowing and add personality to your current home.
Colors & Textures
One of the simplest ways to bring life and design styles into your home is to select paint colors and textures that reflect you and your family members. Some prefer to paint the front door in tones such as grays and blues to exude comfort and peace. While others bring in bright accent wall colors to reflect quirky traits and bold attitudes.
Don't be afraid to play with textures and put your personal touch into your home. For example, velvet radiates a luxurious feel while linen is more reserved and wool signifies comfort.
Mixing textures of your furniture can also be visually appealing when done correctly, such as finding a wood or metal coffee table to make the space feel more modern.
Hardware & Fixtures
Modern customization does not always require tearing out walls or ripping out cabinets. Simple changes, such as exchanging hardware for the kitchen faucet, doorknobs, or pulls can bring a new and unique feel.
Additionally, replacing an old light fixture for a statement piece that is contemporary or vintage will change the lighting in a room and the overall aesthetic and design.
Window & Wall Treatments
Simple home decor decisions make a significant impact on the personality and style of your home.
For example, think back to the old '70s style heavy curtains in burnt orange or pistachio green. Now that reflected personality! But your decisions do not have to be quite so bold and daring to make your house feel like home.
An interior design choice, such as creating a gallery wall of your favorite photos or art displays in your living room, brings elegance. Ceiling panels and bamboo are other stylish choices that introduce the most light without compromising privacy.
Nature Features
If you are a family that enjoys the great outdoors and nature, bringing plant features into your home can reflect that part of your personality. Your home can feel even cozier with a nature-decorated patio or deck for entertaining and enjoying.
Likewise, bringing natural elements inside can reflect your life of nature using fresh flowers for your dining table. Creating spaces for indoor plants near large windows also causes the indoors to feel just like the outdoors.
Custom Construction
More extensive changes that bring personalization into your home may require custom customization with construction. Though this may not be in the cards with an older home, it is an excellent option for personalizing a newly built custom home.
Speaking with your home builder about designing a custom garage if you are a car buff or installing solar panels for an eco-friendly build may only require a few minor adjustments to building plans that will save you time and money by including them in your build from the beginning versus taking on a construction project later.
The possibilities of personalization with custom construction are endless.
Personalization with Morgan Taylor Homes
When designing and building a home with Morgan Taylor Homes, we have an excellent team of designers that can work with you to design and personalize the home of your dreams.
Whether you need assistance with nailing down your design style or you have a perfect picture in your head you'd like to bring to life, we can do it all. If you are ready to personalize your new custom build, give us a call at (480).626.1555.
Most of the good things in life happen in your home. Game nights, family dinners, restful Sundays, holiday gatherings, and more. So it's crucial to ensure that you love the space in which you live. Building a custom home is the best way to accomplish this goal. But this can seem out of reach if …