Small Bathroom Ideas to Make a Small Bathroom Look Bigger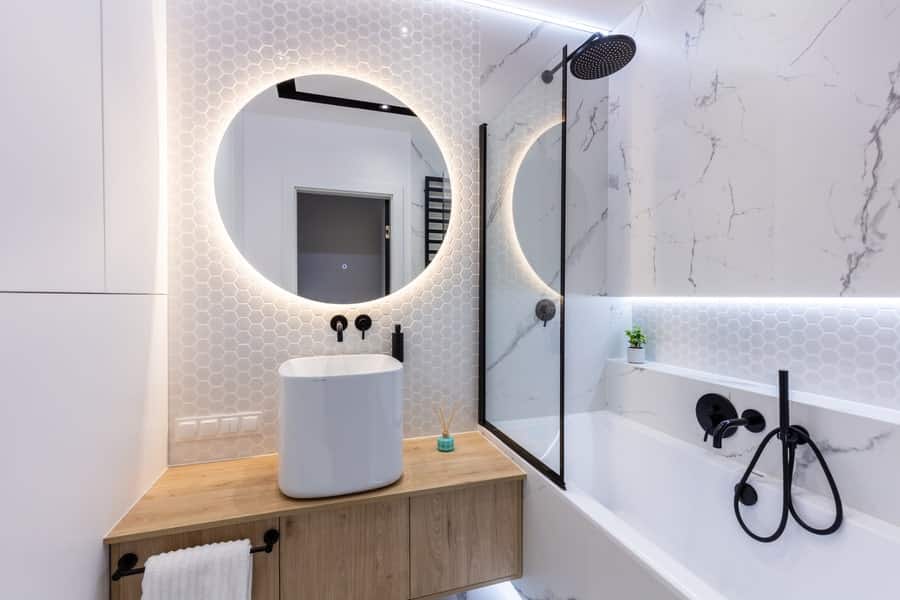 Are you tired of getting ready for the day in a cramped bathroom space? Has your family outgrown your current bathroom situation, and are you looking for an answer to feeling squished in your own home? We understand that tiny bathrooms can be frustrating to deal with on a day-to-day basis.
Thankfully, you do not have to live with constant discomfort when you implement refreshing small bathroom ideas to make the space open up. Whether upgrading your current bathroom with a remodel or starting from scratch by designing a whole new room, here are some small bathroom layout ideas and design options to make your porcelain palace more grandiose.
Enhance Layout
The first and foremost way to trick yourself into thinking your small bathroom is more prominent is to take full advantage of the layout. When you intricately place each furniture piece in its perfect spot, you can minimize space frustrations.
Your bathroom's enhanced layout directly correlates to room circulation and how you will use the space as you install permanent fixtures. For instance, will your knees be cramped when sitting? Are you backed into a wall when brushing your teeth? Do you bump your hip on corners reaching for a towel?
If you do run into these issues, consider rearranging the floor plan for a better experience.
Increase Light
Creating more light or switching out existing fixtures is an affordable and effective way to create the illusion of a larger space. Natural light such as windows or skylights is the best way to open up a space. However, you are still able to achieve this effect inside enclosed bathrooms without windows.
Start by selecting light fixtures that do not block outgoing light but cast light from floor to ceiling. Next, a simple fix ensures that you implement light bulbs that give off warm natural lighting. A well-selected light bulb makes a small room feel bright and airy, presenting your guests with a bold statement from your lighting.
Optimize Storage
Another small bathroom idea that makes a massive difference in how big or small your area feels is optimizing your toiletries/bathroom necessities storage space. A practical storage solution is to hide unsightly bottles and products in a medicine cabinet or linen closet, giving your area a minimalist feel.
However, you can make your bathroom expand by implementing open shelf storage for clean towels and well-designed packaging. The most conservatory and decorative way you can do this is to use wall space by installing shelves.
Get Creative With Fixtures
You can make several creative adjustments to necessary fixtures to give a more minimalist feel in a small bathroom or powder room. For instance, installing a water fixture that attaches through a wall rather than on the sink creates a crisp, clean look that eliminates space where dust can accumulate. Similarly, you can add a pocket door that slides from the wall rather than swinging into your already packed room.
For particularly tiny spaces, selecting oddly-shaped statement pieces such as a triangular sink or tub in a corner utilizes every corner of a small room and creates a unique conversation piece that guests are sure to notice.
Make Use of Color
One of the quickest ways to change the way a room feels is by changing the wall color. For spaces with a lot of natural light from windows, using light paint colors and fixtures aids the light in creating a bright and open space.
For small enclosed bathrooms without windows, the opposite effect can be true. Using dark color paints, You can create a luxurious feel and wall space for light to reflect off when you paint your room with darker colors, creating a more tall and open sense.
Streamline Style
Mixing patterns and design can be a fun way to show off your style, but you should avoid this design element for a small space, as it can chop up a room and make it feel even smaller. Sticking to one cohesive design idea is optimal for your overall small bathroom aesthetics and peace of mind.
A few examples are selecting one type of floor tile used throughout the tub and floor space and opting for a minimal color palette with only one or two colors to decrease busyness. An important interior design tip for a small room is to use designs that incorporate large patterns to make the room look larger.
Utilize Mirrors and Glass
You can achieve a bathroom vibe that doubles the size of the room when you implement mirrors and glass surfaces. Creating a wall covered with a large mirror will reflect the open space in the room and make it feel more prominent in all directions. Likewise, installing a glass shower door can make the room feel more open rather than closed off, as with a shower curtain.
Minimize Clutter
This final idea is less about bathroom renovation and is more about helping to train yourself to keep counters and surfaces cleaned off to reduce how full a space looks. Storing toiletries and products on countertops, even in an aesthetically pleasing package, can make a small bathroom feel cluttered.
Ensuring that every item in the bathroom has a place out of sight and that you always return items to their home will instantly make the room feel clean and open. Even if you do not install additional storage, you can still minimize clutter by storing items in a holder such as a decorative basket.
Custom Bathroom Design
Much of this advice can be implemented in a short weekend project or followed without the burden of an extensive renovation project. Switching out lightbulbs or adding baskets simply takes a shopping trip. However, if your space is just too cramped and small for these types of changes, you may have outgrown the area your home offers.
We understand there are several aesthetic and spatial decisions involved with making your small bathroom feel larger. Our design team would be glad to answer your questions about potential layouts and other strategies you can adopt. You can contact our team online or call our office at (480).626.1555 so we can best assist you.
Most of the good things in life happen in your home. Game nights, family dinners, restful Sundays, holiday gatherings, and more. So it's crucial to ensure that you love the space in which you live. Building a custom home is the best way to accomplish this goal. But this can seem out of reach if …