Building a House During the Pandemic: Should You Wait or Start Construction?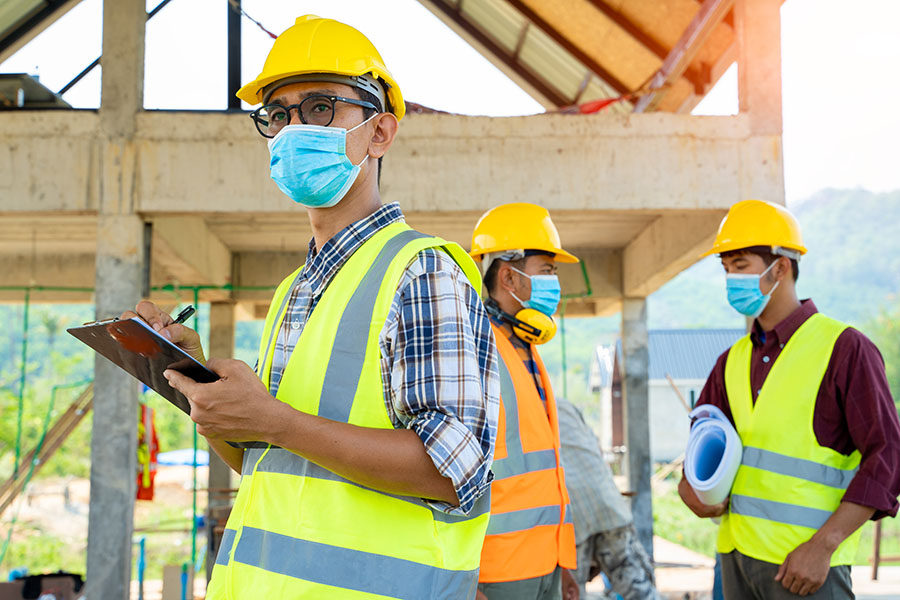 Since the start of the pandemic, home construction has gotten crazy. Droves of young buyers have left home and ventured East for new real estate opportunities.
Whether from easing building restrictions or the chance to sell their home for a mansion, most pandemic people are considering building.
It can be difficult to see these recent home building trends and make sense of it all and the state of the real estate industry. Nothing is the same as it used to be pre-pandemic, from construction mortgage rates to homes for sale.
As experts, we want to give you information that will provide a sense of what's going on.
Then, you can hear our opinion as to whether you should wait or start construction on a personalized home.
How has COVID-19 affected home building?
Overall, the process has become more time-consuming and difficult than it has been. Daily and weekly inconveniences get in the way of deadlines, acquiring materials, and building prices.
Higher Homebuilding Prices
With everyone selling their homes, the increased demand to buy has skyrocketed. That means most couples, young and old, have chosen to build instead, booming the industry.
As real estate prices increase, so does home building. You'll pay more for an existing home or to build a single-family home than you ever have.
Construction Schedule Delays
Building permits, construction start dates, and building materials take longer to come by in the pandemic season. We tell our clients to expect at least 75 days across the board in delays.
This is a realistic estimate, so you know exactly what to expect when building a home.
Pricier Materials & Construction Costs
Building a home isn't as cheap anymore when COVID-19 shut down access to lumber, semi-conductors, and other materials. Construction material scarcity has plummeted workers in the field, making it difficult when everyone wants to build.
You'll need to work with the right home building company that won't charge you extra for the pandemic situation. Supply chain disruptions shouldn't change your family from affording to build.
Rising Loan Rates
Conventional loans and other home interest rates are exploding, which means you'll pay more on building a home if you refinance it into a mortgage. And the truth is that most construction loans cost more than regular home loans anyway.
This is because they use your home as collateral during construction if you happen to hit default.
Should you build a home during COVID-19?
The decision to build a home in the pandemic is difficult while the market looks bleak.
However, we believe it's cheaper to buy when rental payments follow suit with the rest of the housing market. You can take advantage of the situation by purchasing single-family housing for renters to pay the mortgage.
You may need a way to gain residential equity instead of spending thousands on someone else's mortgage. And what better way than to purchase land and build a personalized home for your family.
We recommend speaking to an experienced home builder who has navigated the COVID-19 landscape with a successful track record for home completions.
They can advise you on the best areas to build and even let you know ahead of time what new or changing delays could take place.
Home Building COVID-19 FAQ
Can home building continue during lockdown?
Yes, a home builder can construct your dream home during COVID-19. Make sure they don't have company guidelines to stop under certain pandemic conditions.
How long until the pandemic doesn't affect home building?
According to home building analysts, we predict the market will ease at the end of 2022. It could potentially recover at the start of Q1/Q2 of 2023.
No home building company or real estate agent has a crystal ball, so these dates could change over time.
We've Built Gorgeous Custom Homes, Even in COVID-19
The recent pandemic has brought numerous challenges to home buying and home building as a whole. It can be easy for you and your partner to despair over the effects of an escalated market.
Our expert designers and builders at Morgan Taylor Homes are still constructing architectural masterpieces all across the country.
Whether you're looking for specs, custom, or semi-custom homes, we can put your imagination to the test. Our team even has experience installing luxury features that match what's in your mind's eye.
We'll stay in close and honest communication as to how home building delays change, telling you how long you should expect. It's our job to help you get ahead on home building and move you into a home that's uniquely yours.
Give our office staff a call at (480)-626-1555, so we can hear about your current home situation. Then, we can explain more about the home buying process in the COVID-19 pandemic and see if it's something you'd like to pursue.
Most of the good things in life happen in your home. Game nights, family dinners, restful Sundays, holiday gatherings, and more. So it's crucial to ensure that you love the space in which you live. Building a custom home is the best way to accomplish this goal. But this can seem out of reach if …