Features to Consider When Building a New Home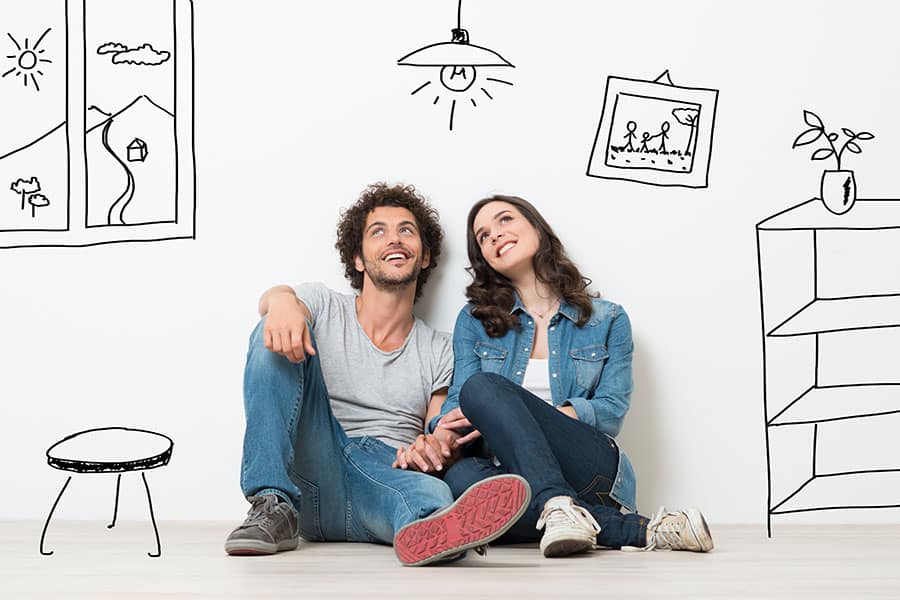 So you're looking to build a custom home? Great! Opting to build your own home will allow you to be involved in the house plans and personalize your home design, right from the beginning. There are so many features to choose from to make your home uniquely yours.
Outlined below are some things to consider when designing a house, from the must-haves to simply cool ideas to include.
Must Haves When Building a New Home
When it comes to building a home, the first aspects to include that come to mind are the home's core rooms: bedrooms, living room, kitchen, bathrooms, etc. And rightly so, these are what make a house a home. Every home will include these basics, but you want every corner to be tailored to you and your lifestyle for your dream home.
Tailored Floor Plan
Gone are the days of chopping up a home into individual rooms designated as small formal dining or living spaces. The modern family benefits more from an open plan that allows for gathering around a large kitchen island or vaulted ceiling living area.
When beginning the process of building, it is wise to assess what your family's lifestyle and needs are and design the spaces you need for everyday life. The key is to designate spaces that you will use every day, such as an office space, media room, or exercise equipment area.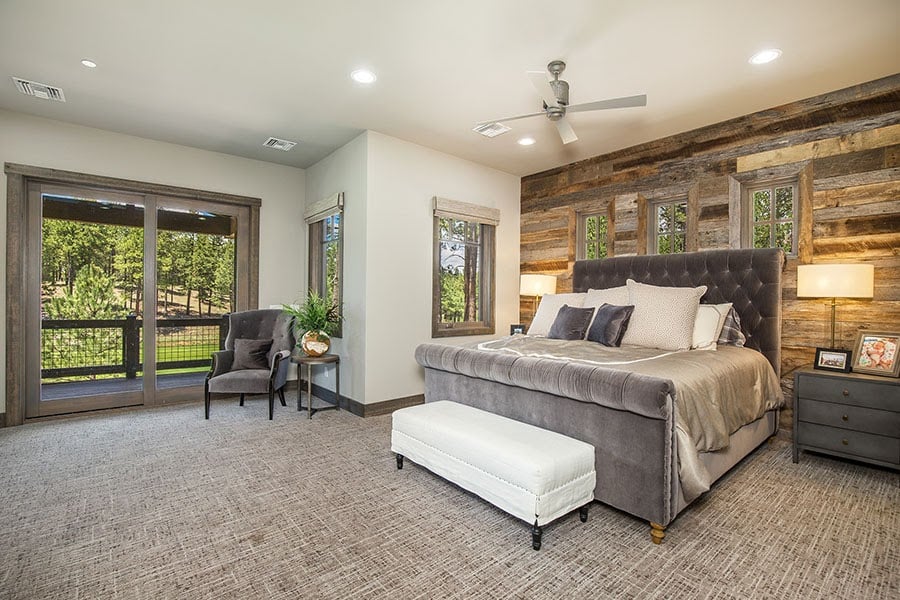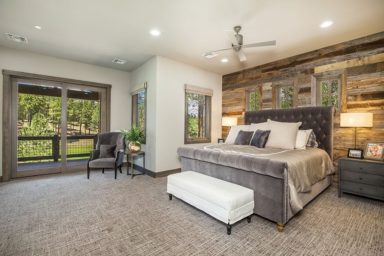 Personalized Master Suite
When designing a master bedroom and master bathroom, you can make many simple customizations to improve your daily life significantly. For instance, placing a laundry room near bedrooms eliminates extra time and energy spent on house chores. For some, this means installing units in a walk-in closet or adding an additional laundry room upstairs in a two-story home.
Also, many families design their homes with the intent of aging in place or moving in elderly family members in the future. Keep in mind aspects such as wide door frames, walk-in showers, and support bars that double as towel holders.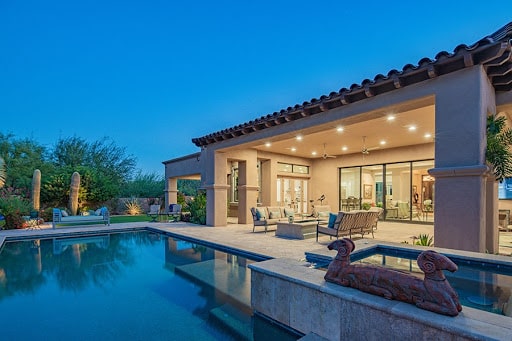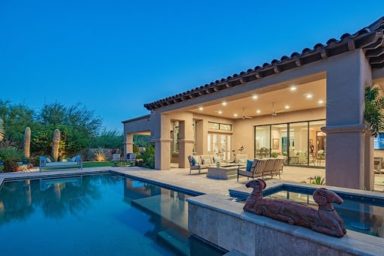 Outdoor Area
Having a space for outdoor living is a welcome addition for many people building their Arizona dream home. This outdoor area can include kitchen space with plumbing for a sink or a gas line for a grill. It could also be a comfortable seating area with a covered space for a large screen TV suitable for family movie nights or game days. Examining your life and how you spend your time outside will help decide how to make use of your designated outdoor space best.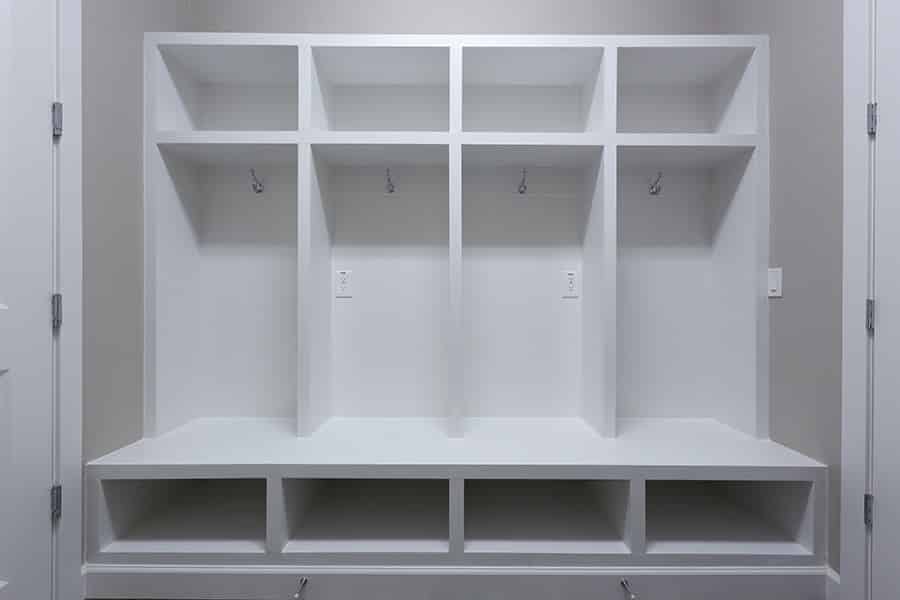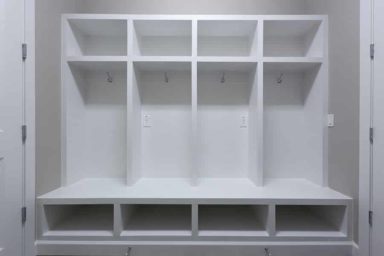 Conveniences
Many other features are not typically thought about until after home construction but can significantly affect home life and are therefore must-haves. Every custom-built home should include a designated drop zone space. One option is to build an entry table with ample closed storage for bags and shoes.
Another option is to build an entry or mudroom with hooks for umbrellas and a tray for keys, wallets, and various other items pulled out of pockets and bags when returning home. Including this designated space in your home build can eliminate clutter and frustration later on down the road.
Things to Consider When Building a House
There are many extra considerations to make when building your home. Things that you may desire to include in your build rather than adding them later.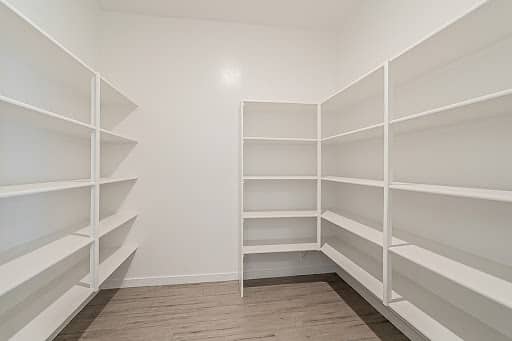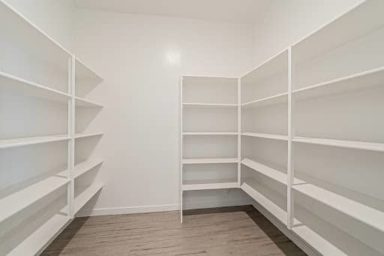 Storage
Creating built-in storage units can add to the value of a home and also eliminate unwanted clutter. Modern homes have a much more sleek and minimalist feel, and creative storage spaces can add to that clean look without eliminating needed items. This may mean using space between studs in the wall as a bookshelf or adding extra designated closets for cleaning supplies and pantries.
Energy Efficiency
Many modern homeowners are opting to include as many energy-efficient options as possible. Eco-Friendly home building is becoming very affordable with options such as design for increased natural light, energy-saving appliances, and even designing landscapes with water conservation in mind.
You may be unsure of how many energy-efficient options you wish to include in your home. In this case, a great design idea is to build a home that leaves room for additions later- such as wiring for solar panels.
Cool Things to Include When Building a House
You could implement unlimited ideas into your new home to make it more valuable to you now and for resale later. These include home automation and high-tech convenience options. Such as:
Built-in USB charging ports
Central vacuum throughout the home
Motion sensor lights in closets
Keyless entry on doors
Water filtration systems
Security cameras and doorbells
Automated sound systems and lighting
Building Your New Home
When it comes to designing your dream home, our team at Morgan Taylor Homes desires to work with you to ensure that it is personalized to you. From design to move-in, if you wish to make customizations to one of our semi-custom floor plans or work with an architect to bring your dream to life, we are with you every step of the way.
If you would like to discuss features to consider when building a new home or view one of our model homes, contact our team today.
Most of the good things in life happen in your home. Game nights, family dinners, restful Sundays, holiday gatherings, and more. So it's crucial to ensure that you love the space in which you live. Building a custom home is the best way to accomplish this goal. But this can seem out of reach if …