How To Buy A New Construction Home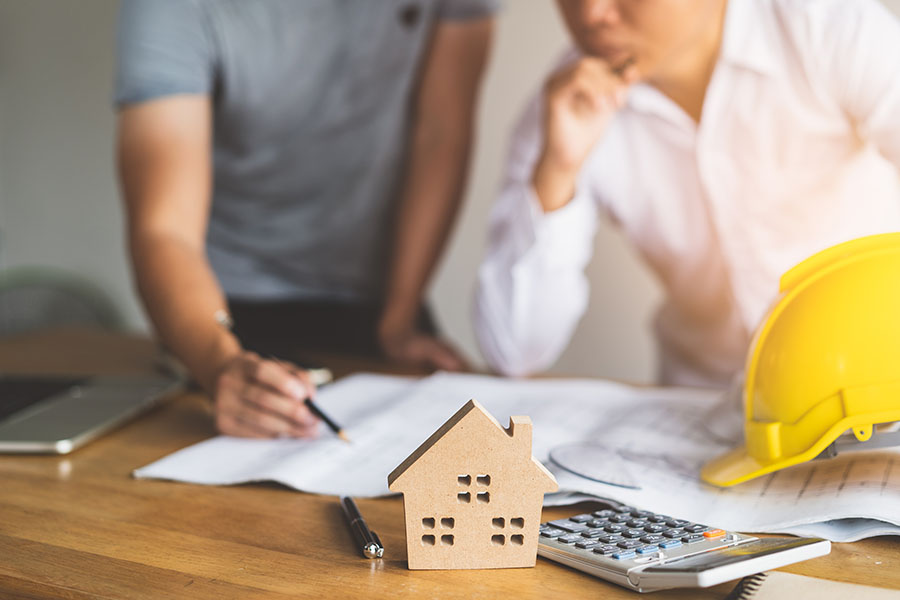 The home buying process can be an overwhelming experience, whether you're a seasoned property owner or a first-time buyer.
But if you're ready to finally score your dream home and maximize the long-term benefits of this life-changing investment, then buying a new construction home is one of the easiest ways to build a stable, loving environment for you and your family.
Today, we're demystifying the new construction home buying process, so you can confidently navigate the ever-evolving real estate market and land in the cutting-edge property you deserve, without the added stress of settling for a "fixer-upper."
Why Should I Buy a New Construction Home?
With the hyper-competitive nature of the housing market, you may be wondering what makes investing in a new construction home such a sought-after option.
Unlike the purchase of an existing home, you can design your own model home to give you an abundance of creative freedom to customize your space and get the most out of your mortgage, regardless of what your previous home-owning experience looks like.
Here are 4 major benefits to choosing a new construction home.
Move-In Ready
No previous owners, no lingering tenants. When you buy a brand new home, you gain instant access to your new place the moment you've finished the closing process. This empowers you to spend less time on costly moving expenses and more time settling into your new home on your terms.
Modern Amenities
Whether you purchase a spec home or a custom build, new construction projects offer industry-leading upgrades for every aspect of your home's design. No matter what your personal aesthetic looks like, your new home can give you effortlessly modern style without the stress of D.I.Y renovations.
Low-Maintenance Costs
The newer your home is, the less money you're likely to spend on repairs and maintenance fees, especially in the first several years of ownership. Even better, most new construction homes include a generous home warranty policy that can alleviate the strain of any unexpected home expenses after you've moved in.
Energy Efficient
While older homes can send your utility bill through the roof, new construction builds are designed with the most current energy trends in mind. Your qualified team of builders is here to help you cut back on your energy costs, one innovative solution at a time.
Types of New Construction Homes You Can Buy
Now that we've covered the benefits of buying new construction, it's time to take a look at the types of custom homes that you can choose from to meet your needs.
Contrary to what many believe, not all new construction homes are created equal.
In fact, there are 3 primary styles of homes that you'll encounter during the home buying process.
Pre-Designed "Spec Homes"
Just as the name suggests, these model homes or spec homes are designed by the building company and sold to you as-is, without the option of customization.
But that doesn't mean that spec homes are any less luxurious than a custom build.
In many cases, these homes are sold because the previous buyer was unable to complete the transaction, leaving you with the opportunity to score a new construction home fresh out of the building process.
Pros and Cons of Spec Homes
The pros of a spec home:
Move-in ready design with no additional input required
Less expensive than a customized build
Low maintenance and covered by a home warranty
The cons of a spec home:
May need to D.I.Y customized options
Competitive buying process
Non-negotiable design floor plans
If you're eager to buy a new construction property, but don't have the time or the budget to build a custom home, then a spec home is a perfect way to enjoy all the benefits of a new build, without a lengthy design process.
Fully Custom Homes
Many of us have imagined having the freedom to create our dream home from the ground up.
With a custom home, your team will guide you through the building process from start to finish, allowing you to have the final say on every detail from the trim to the floors.
By the time your home is ready, you'll have a unique and customized property that you can savor for years to come, with no upgrades or renovations needed.
Pros and Cons of Custom Homes
The pros of a custom home:
Every detail is specified to your liking
Builders work with you every step of the way
Save money on renovations down the line
The cons of a custom home:
More expensive than a model home
Building process can take a long time
If you're ready to stop worrying about constant upgrades and start waking up in the home of your dreams, then a custom home will empower you to take charge of every detail in your home, with no exceptions.
Tailored Semi-Custom Homes
Of course, designing your dream home doesn't have to be an all-or-nothing event.
Specially tailored semi-custom homes allow you to add your specifications to the most important parts of your home, while still utilizing the existing floor plan and structure of the property.
Possibly the most common type of new construction, these homes make customizing your property fast, simple and cost-effective.
Pros and Cons of Semi-custom Homes
The pros of a semi-custom home:
Easy customization of key design elements like countertops, lighting, and paint
Less stressful building process
More affordable than a custom build
The cons of a semi-custom home:
Additional renovations may not be included
Floor plan and structure are non-negotiable
Building process can take a long time
If you're ready to customize your home, but are hesitant to take over every single detail of your place, then a semi-custom home will give you the best of both worlds in a streamlined process.
How Do I Buy a New Construction Home?
While there are many obvious differences between buying an existing property and buying a new construction home, the overall transaction process can be surprisingly simple.
Here's how to buy a new construction home in just 5 steps.
Step 1: Hire a Buying Agent
Navigating the home buying process without the help of a qualified professional can leave you vulnerable to misleading business practices and unfair deals.
That's why it's critical to enlist a real estate agent with experience in the new construction space, so you can trust that you're getting the best investment at every stage of the process.
And if you're just beginning your journey to custom home ownership, a licensed real estate agent will be able to help you understand your buying options, seek out reliable builders, secure an appropriate loan, and every step in between.
Step 2: Get Pre-approved for a Loan
Unlike properties that have a negotiable listing price, new construction homes are typically more strictly priced, due to their modern energy efficiency and newly installed features.
Before you can begin shopping for homes, it's important to have a pre-approval letter with a qualified mortgage lender who understands the financial nuances of buying or building a custom home.
Your real estate agent will likely connect you with their own preferred lenders, allowing you to begin making offers on the homes you love without worrying about the possibility of your loan falling short of the asking price.
Step 3: Research Potential Properties
There are many factors to consider when shopping for a new home, and custom builds are no different.
You and your real estate team should take extra time to thoroughly research building companies, types of new construction projects, and any other specific details that you're looking for in a home.
Some of the factors you'll need to decide on include…
Spec home Vs. Custom or Semi-Custom Home
Qualifications and reputation of your builders
Neighborhoods and nearby schools
Timeline in which you'll need to move
Budgeting and long-term financial goals
Customization and design priorities
Once you have a clear vision of your new home, you can start narrowing down your search fast.
Step 4: Customize Your Design
Unless you've decided to buy a spec home, you'll be tasked with helping customize some key aspects of your new property.
We recommend prioritizing your design needs and taking the time to evaluate all of your options so that you and your building team can create a cohesive space that reflects your unique style.
While this is by far the most exciting stage in the buying process, you should be aware that customization can be a time-consuming job. You should be prepared to put off your move-in date until any specifications can be completed.
Step 5: Close on Your Home
Finally, you'll need to seal the deal on your new home and cover any closing costs before you and your family can settle in.
Much like traditional home buying, this process will include a home inspection, final loan approval, and signing of all necessary contracts or documents, so you can get your keys in hand.
Ready to Start Your Custom Home Building Process?
At Morgan Taylor Homes, we know that deciding to customize and build your dream home is a once-in-a-lifetime experience.
We employ the industry's most elite designers, builders, and architects to cover every last detail of your new home, using a streamlined process that takes the stress out of buying new construction.
When you're ready to take the first step towards coming home, we're here to help. Connect with our team at (480) 637-2977 today.
Most of the good things in life happen in your home. Game nights, family dinners, restful Sundays, holiday gatherings, and more. So it's crucial to ensure that you love the space in which you live. Building a custom home is the best way to accomplish this goal. But this can seem out of reach if …