How to Build & Design a Custom Half Garage Half Gym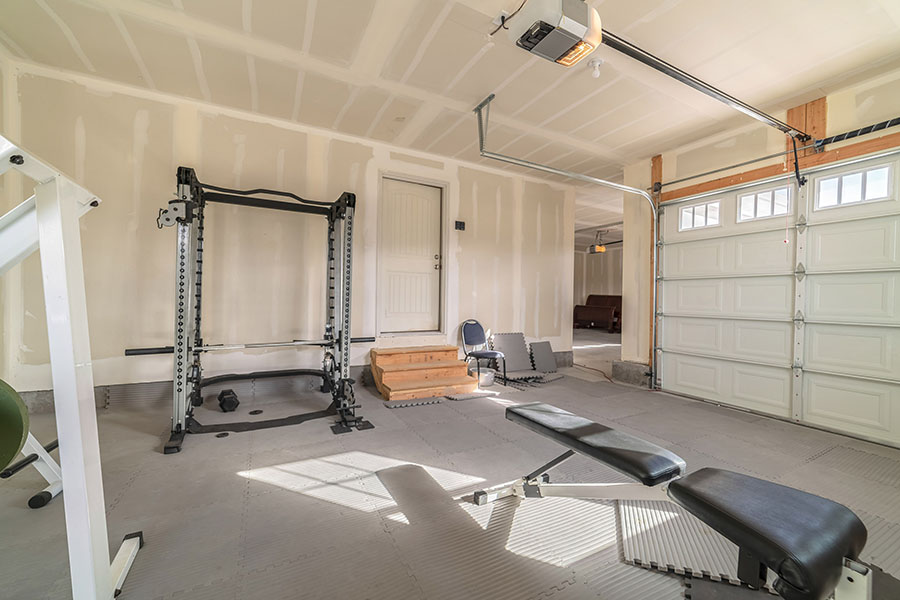 Whether you're a workout guru or hopping on a bike for the first time, designing a gym in the garage is a great way to tackle your fitness goals. Gym membership fees can take a toll on your budget, especially if you go to a high-performance gym.
It's very unpredictable whether gyms will close down again, so it's useful to build a personalized setup at home. Building an exercise area in your garage maximizes underutilized spaces in your home rather than letting them go to waste.
We believe you can avoid the hassle of going to the gym by making one at home that's functional and aesthetically-pleasing. And it's possible to transform the space with a low garage conversion cost.
To help you dream of what could be, we'll tell you more about how to build and design a custom half garage half gym.
Half Garage Half Gym Materials
You can start getting everything ready to build and design a gorgeous at-home gym by gathering these materials. They lay the groundwork for the weights you'll lift, the bike you'll cycle, and the mats you'll stretch.
The trick for how to turn your garage into a gym on a budget is finding the highest quality materials for the cheapest price. It may be necessary to start out slow, picking up cheaper versions of your dream equipment. Then, you can upgrade as your funds increase.
Workout equipment: Decide with a personal trainer or on your own what fitness goals you have. Then buy the necessary equipment.
Flooring: Cushion your concrete garage floor with rubber tiles and other soft mats while exercising.
Ventilation: Most garages don't come with these and they'll come in handy with extreme summer and winter temperatures.
Storage system: Hang equipment on the walls and ceiling with racks and shelving when you're not getting a burn.
Mirror: You can see how your body is progressing as a result of consistent workouts. Mirrors are a major confidence booster.
This type of project requires preparation, so you understand how much to expect to pay. If you decide to do more than turn your garage into a room for workouts and expand further, you must take local building codes into consideration.
Steps for Building the Garage
Follow Steps 1-6 to assemble all your materials into a truly custom half garage half gym. You can follow this guide out of order if you already have purchased gym equipment, for example.
It's time to make your aesthetic fitness area into a reality!
1). Properly Define the Space
This first step may seem redundant, but all too quickly your gym can turn into the rest of the garage without proper boundaries. Ask yourself these questions to figure out your level of commitment and layout with creating an at-home gym.
Which half is going to be storage for cars, mowers, and outdoor gear? Which half is going to house the yoga mats and squat racks? Will it be a horizontal or vertical split? Will the fitness station be closest to the door or further away?
Some fanatics converting a garage into a gym space may decide to transform the entire area. And then they can park their cars or RV in a separate garage for full range of motion.
The recommended workout square footage is a 10ft x 10ft area. So you need to decide how to make that much space or more available with your current setup.
You and your partner shouldn't have to feel squeezed in a tight space while stretching and exercising.
2). Create the Space (if needed)
Once you decide on a state-of-the-art garage gym space, it's time to create it! Dedicated cleaning days will help for clearing out musky storage to make room for dumbbells and other equipment.
We recommend using masking tape to mark your new workout area for a visual reference during the planning stages.
Bi-fold doors, sliding doors, and even dividers are additional ways to experience a mental distinction between your car garage and gym. You can also get creative if you're building a spec or custom home by installing a metal frame glass roof on top.
3). Set Up the Gym Floor
Rubber tiles are a safe and customizable shock absorption option for heated workout moments. You could accidentally drop a massive barbell loaded with weights and be confident it won't crack the floor space.
They are as easy as purchasing the product online or from a local dealer. Most rubber tiles are interlocking puzzle-like pieces that don't require hiring an expensive specialist.
If you're on a budget and need cost-effective solutions, treadmill mats are a viable material. They won't provide maximum cushion like premier exercise facilities, but they will hold you over in the meantime before you upgrade to a higher-end garage gym.
4). Choose your gym equipment
We're giving you permission now in this how-to guide to scour the internet for all the workout equipment you need.
Depending on your fitness goals and what gains you want to achieve, you'll need to purchase different machines and weights. These contribute to the overall garage to gym conversion cost, so we recommend being cognizant of your budget.
Look for deals on Facebook Marketplace and other platforms with local homeowners you can trust. When you're ready to upgrade the garage gym, invest in the personalized home additions by selling the equipment for more than you paid for.
Some pieces may be harder to find than others and they may not always be available used. Watch online shopping distributors for deals and sales, especially during Black Friday and the New Year, when people are the most interested in fitness.
5). Install proper ventilation
Creating a personalized half garage half gym is worth installing ventilation in the space. The air system will control blistering summers and brutal winters so you can workout without climate adding to the exercise difficulty.
Most residential garages don't include proper ventilation, so you'll need to grab a specialist to do the work. In special cases, they will install it if you are turning a portion of your garage into a bedroom, for example.
Or you can plan one ahead of time with an architect in the design phase of custom home building.
Opening the garage the door is always an option for those who don't want to spend too much. But it's definitely not the dream garage gym you have in your head and a temporary solution at best.
6). Create a storage system
You may have already considered wall racks, shelving, and other storage systems when creating space in the garage. These structures are crucial for maximizing the small space and putting up yoga mats and jump ropes after a workout.
Larger exercise equipment is more difficult to hide, especially squat racks and heavy constructions. Thankfully, bench press stations can fold up and rolled to the side when cars need to pull in.
Taking advantage of how big pieces can be stored and creating efficient places for smaller equipment to go is the key. Garage storage for every piece of equipment keeps everything tidy and organized.
Tailored Garage Gym Aesthetic Touches
The final step for how to build your garage into a gym is accenting everything to your home's interior and exterior design. You have creative freedom to personalize the space and get your stress out after work or watching the kids.
Applying a professional designer's eye, the DIY fitness room can be the most enjoyable room in your home. Here are some tips we think would improve the overall look and feel of your state-of-the-art at-home gym.
Coordinate the entire gym setup aestethic: You can syncrhonize bikes, squat racks, dumbbells, and other equipment in finish and color. A lot of workout companies create pieces in black and white for easy matching opportunities
Purchase color flooring: Patterned and vibrant rubber tile product are design options that work together for a cohesive presentation. Skip the boring black and gray gym facility floors with whatever you can create in your head.
Paint the garage walls: Most home builders don't paint garage interiors with extravagant intentions. We trust you can create a customizable workout vibe or work with a designer to achieve a comfortable place to burn calories.
Work Toward Your Dream Garage Gym
Using the materials and steps above, you can build and design a beautiful and functional at-home gym. It can live in your garage to keep the sweat and body odors away from the living room or bedroom where your family spends the most time.
We believe you can take your fitness goals a step further by curating a personalized workout environment with our designers. They can inquire about your hopes for a half garage half gym and create a spec home or custom home plan that fits.
You can be comfortable working out with plenty of room and not have to compromise due to a budget. It's the ideal for anyone who wants to get healthy and build an exquisite home for their family.
We would love to hear your ideas about half garage half gym ideas and show you with an architect how we can make them a reality. Our team is also skilled with transforming a garage into a living room or creating a home office with a flexible floor plan.
Give us a call at (480).626.1555 so our team can call you back shortly.
Most of the good things in life happen in your home. Game nights, family dinners, restful Sundays, holiday gatherings, and more. So it's crucial to ensure that you love the space in which you live. Building a custom home is the best way to accomplish this goal. But this can seem out of reach if …