Tips for First Time Home Buyers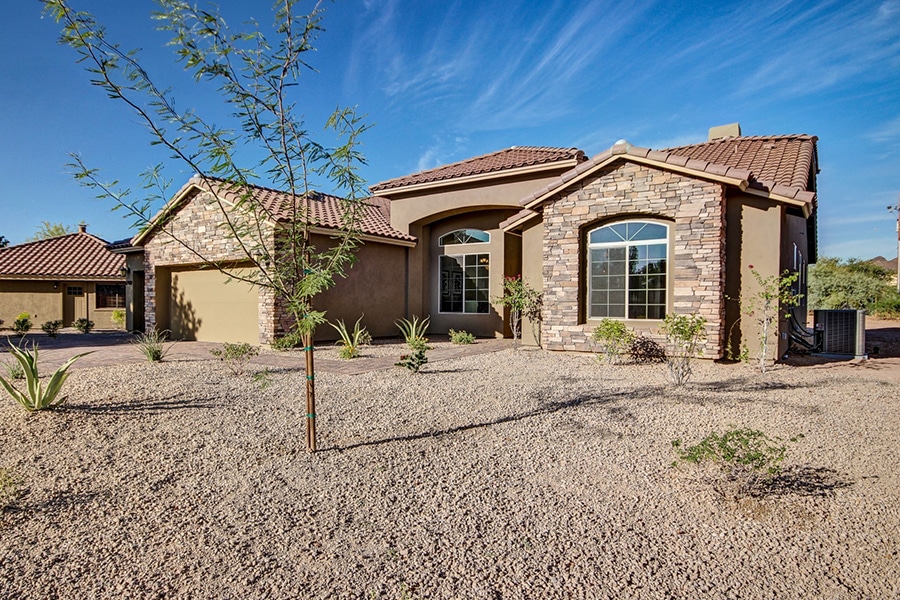 Whether you are building a custom home from the ground up or purchasing a brand new spec home, buying your first home is a big and exciting step! It is also a daunting process and it can be difficult to figure out where to start. To help you get started, we've put together the following three tips to get you on your way to buying your very first home!
Tip #1: Get your Finances Together
When discussing the financial situation of buying a home there are two questions you should keep in mind as you get started.
How do you plan to pay for your first home? 
What is your budget for your new home?
There are typically two ways to purchase a home. One way to buy a home is to purchase it outright with cash for the total amount of the home. The second method is to take a mortgage, which is also known as a home loan. The process of buying a home outright is generally much easier than acquiring a mortgage. However, for most first time home buyers this is not a realistic option. Most first time home buyers will require a mortgage to finance their home purchase. Before you apply for a mortgage you must be realistic towards your financial situation. If you have good credit, manage your spending, and have acquired a decent savings, then you are in the right spot to be looking for your first home loan!
You will notice that there are several types of loans to choose from. It can be daunting to try and figure out which one is best for you, fortunately we have put together a concise list and explanation of the many types of home loans. The type of home loan you choose will depend on what you are able to afford for your down payment, your credit score, and your income.
Once you have determined what home loan is right for you, look for a lender that meets your requirements, has good reviews, and can give you reasonable rates. We have made this easy for you by having a list of preferred lenders that we work with on a regular basis. Ask your Morgan Taylor Home's representative to put you in touch with one of them and you won't be disappointed! Our preferred lenders are trusted mortgage and finance experts that will provide you with exceptional customer service and answer any questions you may have.
Once you've chosen your lender, your assigned mortgage officer will then help you go through the steps to get pre-qualified and pre-approved for your first home! Many experts suggest that you get fully pre-approved for a mortgage before even beginning your home search, as this means that the financial institution has fully vetted your finances and has given you the amount that they are comfortable lending you. The amount that the lender gives you and whatever your down payment is, will usually be the maximum budget you set for your home. Some first time home buyers prefer to stay under this amount based on their financial situation, but ultimately the decision is up to you and what you are comfortable with!
Having a budget before you start your new home search is a great idea because it helps you narrow down your search parameters. With a firm budget in mind you can confidently begin your home search without having the fear of potentially not being able to afford a specific home. Your budget will ultimately determine some of the most important aspects of your new home such as the size, location, and finishes. As you go through this process, you will see that your budget is the key to finding your perfect first home!
Bonus tip: Try to keep in mind the other expenses that come with a home beyond the mortgage payment. Maintenance, utilities, and furniture are expenses that all come with owning a home. When you buy a new construction home, you experience less spending on maintenance due to the age of your home. An additional perk to a new home is that newer homes are built with higher standards of energy efficiency, which means you spend less on utilities too!
Tip #2: Find Right Location for YOU
Arizona has so many incredible cities and regions to live in, which can be overwhelming when you are trying to decide where you want to buy or build your home. Things to take into consideration are nearby amenities, your daily commute, proximity to family and friends, and the overall lifestyle you desire.
For example, if you prefer a more isolated, true desert living experience you might want to consider a home in New River, Rio Verde, or Whittman. If you want to be close to dining, shopping, and everything the valley area has to offer, look at homes in Phoenix, Scottsdale, and Peoria. For a suburban way of life, Fountain Hills might be the perfect fit! Research is an important aspect of picking the right area for you. Some things to consider for your first home location include quality of life, cost of living, and school districts.
However, it should be noted that depending on your budget and the cost of living in certain cities, you might have to make concessions in regards to the location of your first home. This means that the ideal location you had in mind might not be the right location for you- but through research and compromise you will find the perfect area for your new home.
Once you have actually started the new home search in your chosen region/city, you should analyze the immediate location of the home. Make sure your neighborhood suits your lifestyle goals. Does the surrounding area have the landscaping you are looking for? Do you prefer paved roads, or would you be happy on a natural road? How far from the city you are determines if you need a septic tank or hauled water. These are important questions to ask yourself and your real estate agent as you look for your first home. Make sure to do research on the local utility providers (such as, APS or SRP) and any pertinent city/county codes.
Tip #3: Decide on Your Must-Have Items
Most everyone has a dream home wish list as they start their home buying journey. Based on your budget, location, and taste this will be different for every first time home buyer. Deciding what aspects of a new home are most important to you will help you narrow it down to certain homes, until you ultimately find your first home!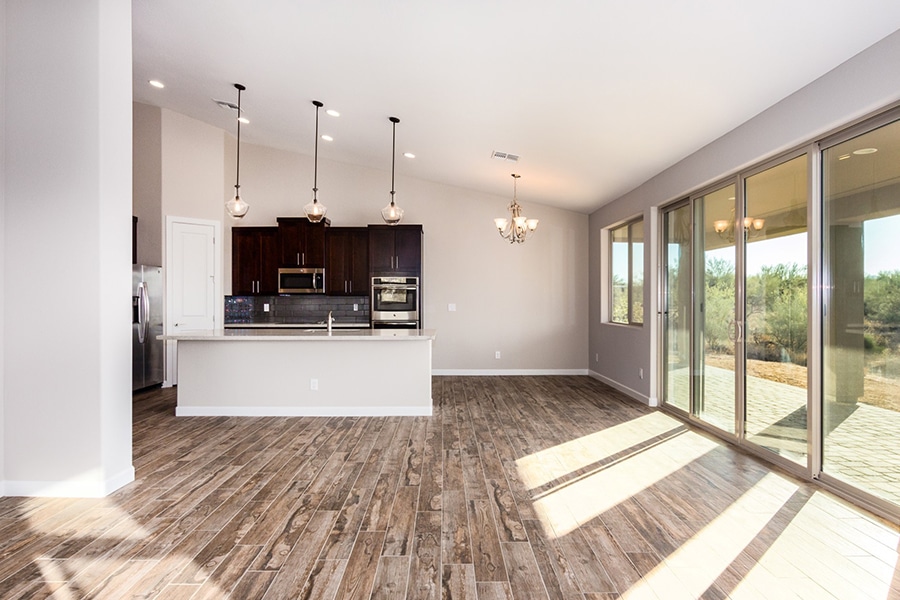 The most important must-have items are usually structural based, which are usually the hardest and most expensive elements of a home to alter later on. Examples of structural based home components include the number of bedrooms, bathrooms, and floors of home. Other structural items that you might take into consideration are:
Single Family Home vs. Multi-Family Home
Layout/Floor Plan configuration (Most people prefer a contemporary open layout.) 
Curb appeal/Architectural Style (Are you passionate about mid-century modern homes?)
Number of windows (Does the home have enough natural light?) 
Number of Garages or External Storage
Yard Size
On Property Amenities (i.e a pool)
Bonus tip: When you build a new home you can choose most, if not all of these structural options (depending on your home builder) which means you don't have to sacrifice the most essential selections of your home!
Once you have decided on the big ticket items for your first home, you can start thinking about the finishes and the details that make up the home. If you are buying a pre-existing home you can either live with the finishes the previous homeowners have chosen, or you can remodel parts or the entirety of the home. However, if you have chosen to build a custom or semi-custom home you will get to choose these finishes to your taste and budget! The most popular things home buyers look at in regards to finishes are:
Kitchen Cabinets and Countertops (Quartz, Granite, or Laminate?)
Kitchen Backsplash
Flooring (Tile, Carpet, or Laminate?)
Kitchen Appliances
Plumbing and Lighting Fixtures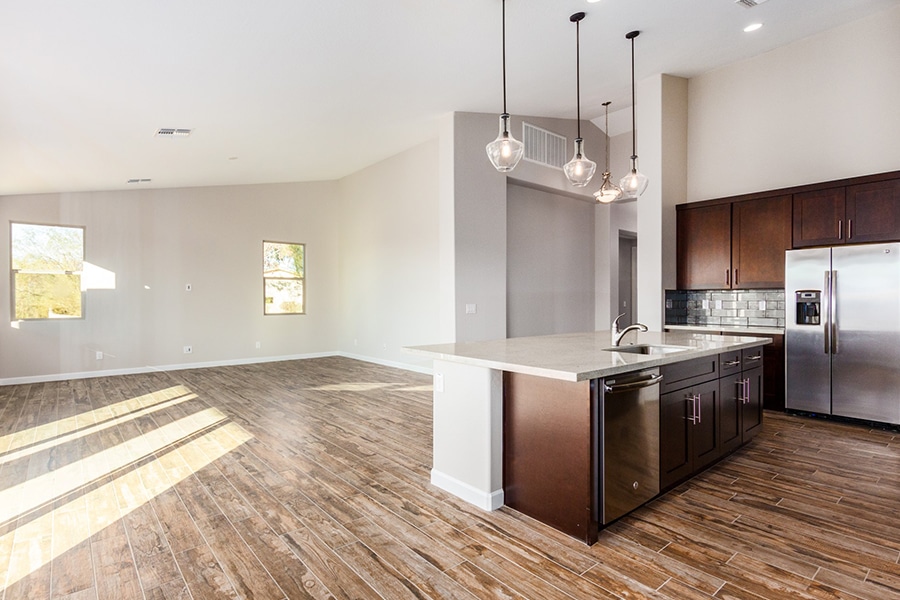 Bonus tip: When you choose a home builder with a robust design studio, you can really customize your finishes to your taste! At the Morgan Taylor Home's design studio our designers and flexible approach will help you put together the home you've always envisioned.
Finishes are important because they are the elements that allow your house to be personalized into your home. By deciding what finishes you want to prioritize you can then start to separate each different home until you find the one that checks all of your boxes and feels right.
As a first time home buyer you aren't just buying a house, but a place to build the foundation of your life. Whether you choose to build or buy a pre-existing house, our three first time home buyer tips can help you get started on the right foot.
If you have any questions about building a Morgan Taylor Home, first-time buyer or not, our team is happy to answer! Please give us a call at 480-626-1555 or fill out the contact form below.
Most of the good things in life happen in your home. Game nights, family dinners, restful Sundays, holiday gatherings, and more. So it's crucial to ensure that you love the space in which you live. Building a custom home is the best way to accomplish this goal. But this can seem out of reach if …